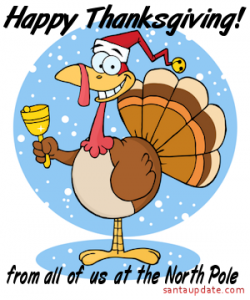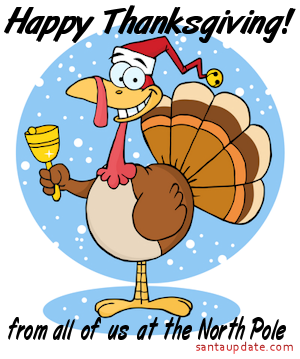 Hearts are merry today at the North Pole as the excitement for Thanksgiving builds. For many here nothing says "Christmas is here!" like the celebration of Thanksgiving.
Tomorrow we begin year #21 of our tradition of tracking Santa Claus. If you're new to this, we track Santa a bit differently. Every day from now until December 23rd we tell the story of Operation Merry Christmas, the annual effort at the North Pole to help Santa deliver Christmas to the world. We tell the story of Santa, Mrs. Claus and the elves as Christmas unfolds with at least one daily update provided by Santa's newsroom right here at SantaUpdate.com. Then we track Santa as he hitches up the reindeer and takes flight around the world, providing updates from the sleigh, from the North Pole and from Santa himself every fifteen minutes throughout his Christmas flight. It is the most comprehensive Santa coverage available.
And it all begins as we wrap up our Thanksgiving dinner and head out to switch on the North Pole Christmas lights tomorrow. We hope you join us!
In the meantime, enjoy Thanksgiving with your family. For us at the North Pole Thanksgiving is a time of not only eating great food but also decorating for Christmas, playing games and being together. We begin early in the morning with the annual Turkey stuffing contest, one of the only times of the year where Mrs. Claus allows us all into her kitchen. We all eat together but it takes a lot of turkey to feed us all. This isn't a contest of speed. This is a contest of taste and presentation. Mrs. Claus is very fussy about how clean we are in the kitchen, how wonderful a prepared meal looks and most importantly what it all tastes like.
The stuffing contest is a week long affair. We actually started it a few days ago. Those elves who enter must submit a "stuffing sample" to a panel of judges, who will perform a taste test and then select just five overall contestants to participate in the contest. This year, elves Judith, Herbie, Gomer, Franny and Slick were selected for their recipe submissions. Each elf will stuff their own turkey and tomorrow after we eat we all get to vote on the "best stuffing".
While dinner is being prepared and cooked we spend the day together playing games. A favorite is limbo, a game that elves play better than anyone else in the world. There will also be music and dancing. In all, it is a very exciting day. We hope your Thanksgiving is equally as fun where you are!
— Elf Ernest
https://santaupdate.com/wp-content/uploads/2023/01/newlogo23f.png
0
0
Elf Ernest
https://santaupdate.com/wp-content/uploads/2023/01/newlogo23f.png
Elf Ernest
2012-11-21 07:36:29
2012-11-21 07:36:29
North Pole Prepares Thanksgiving Celebration