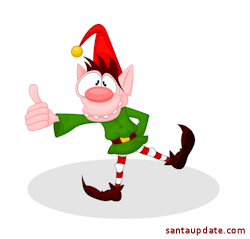 A glitch in a system designed to mark wrapped presents has created chaos in the Wrapping Department at the North Pole. Elf Wally says they cannot tell what is inside the thousands of gifts already wrapped and ready for Santa to deliver.
"The entire barcoding system has crashed. All of the data is gone. Even the backup servers are gone." Elf Wally said. "How does that even happen? I don't know what we are going to do now. We have no idea what's inside the boxes. We didn't put address labels on the gifts this year like we would normally do. The elves who designed this system told us that it was crash proof. They said we would never have a problem like this."
Elf Wally is working with Elf Hugo over at the North Pole post office on a possible solution. "We have x-ray systems designed to help us process packages we receive at the North Pole," Elf Hugo explained. "Wally and his team can use that to see what is inside the presents without having to tear them open."
Santa is aware of the issue and said there is still plenty of time remaining to work out the problem.
However, Elf Wally has had to recall the elves he sent to the Workshop to help with the flu situation there. It is still a little early in the season for things to be this crazy at the North Pole!
— Elf Ernest
https://santaupdate.com/wp-content/uploads/2023/01/newlogo23f.png
0
0
Elf Ernest
https://santaupdate.com/wp-content/uploads/2023/01/newlogo23f.png
Elf Ernest
2012-12-03 04:42:03
2012-12-02 10:49:52
Wrapping Department Snafu Causes Chaos