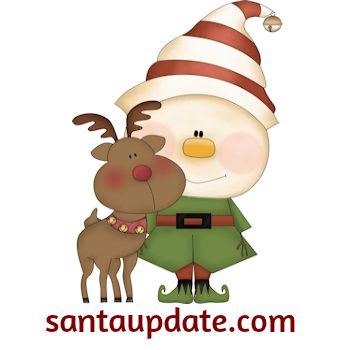 Hey everybody!
Happy January to you. Today marks 11 months until Christmas Eve. Yep, just 11 short months from today Santa will be in the air!
It looks to be a busy year here at the North Pole. We have been in planning meetings for weeks now and I can hardly see a break on the calendar.
But I can tell you that one of the things folks here are really looking forward to is the spring season here at the North Pole – because there will be lots of reindeer babies then. Elf Victor says this year will see more reindeer born at the North Pole than ever.
Elves just love baby reindeer. Not only are they cute, but they are a lot of fun.
Santa doesn't let them work their first year. He won't even let them try to fly, though many of them do anyway. He says their young bones have to develop and get strong before they can do that. So that means we get to play with them and the elves really love that.
The biggest job related to all the reindeer is giving them names. Santa loves to do it but there are so many reindeer this year that he needs ideas. Do you know a good name for a reindeer? Click here to send an idea to Santa.
So check back with us often as we count down the months to Christmas. You won't want to miss the news from the North Pole!
https://santaupdate.com/wp-content/uploads/2023/01/newlogo23f.png
0
0
Elf Ernest
https://santaupdate.com/wp-content/uploads/2023/01/newlogo23f.png
Elf Ernest
2016-01-24 01:30:39
2016-01-23 08:33:30
11 Months Until Christmas