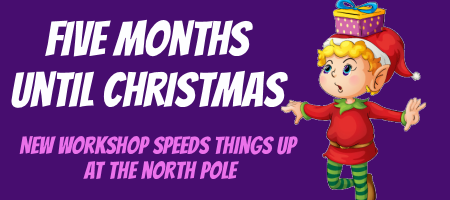 Greetings! Here it is, the 24th of the month and we're down now to just five months before Christmas. That's crazy! We're on the downhill side to Christmas.
We're all moved! Santa's new workshop is now completely filled with elves of all types and things are running at top speed.
When crews got done with the move over there at the old workshop I have to tell you that things seemed kind of sad. That has been Santa's workshop for decades and decades. Now it sat there empty and dark – nothing happening within its walls.
Until today.
The morning Santa announced a new job for his old workshop. Santa announced that the old workshop would be turned into an expansion of the Wrapping Department.
It is a brilliant move and it makes all the sense in the world. After all, Santa's new workshop is all about speed and efficiency and if those guys were going to make more toys faster it would only make sense to expand the Wrapping Department, too.
It is a good fit, too, because the old workshop is an ideal space to wrap presents. It has big workbenches and flat surfaces. There a lots of places for tools and elves.
Santa also announced that with the opening of the old workshop as an expansion of the Wrapping Department that he would need several thousand new elves to work there.
Elves by the hundreds are lined up to apply for new jobs in the Wrapping Department. It is a well known fact that the Wrapping Department is the "fast track" to Santa's Workshop in the world of elves. To get to Santa's workshop is an elf dream. It takes many years to get there. But Santa seems to really like Wrapping Department Elves a great deal and some big promotions have come to elves from the Wrapping Department.
Elf Crash Murphy was a Wrapping Department elf before he became a famous North Pole radio reporter. And Elf Hugo worked in Wrapping for years before he took charge of the North Pole Post Office. In fact, every elf that is someone at the North Pole once worked in Wrapping.
So it is a happy and busy time here for many elves at the North Pole as many have new jobs and things are moving along better than ever.
I can tell already, it's going to be a great Christmas!
PS – Note to Kris to in Indiana: Good idea about the replay of the Christmas Eve radio broadcast. I will see if Santa agrees we can do it on a weekend in the months ahead.
https://santaupdate.com/wp-content/uploads/2018/07/072418.png
200
450
Elf Ernest
https://santaupdate.com/wp-content/uploads/2023/01/newlogo23f.png
Elf Ernest
2018-07-24 00:01:52
2018-07-23 21:23:58
Five Months Until Christmas