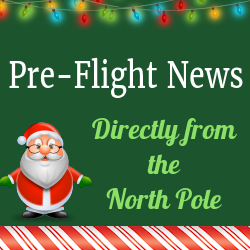 Hi all!
The countdown to Christmas is rapidly coming to an end. While Santa's exact flight plan is not exactly know we do know precisely how we are going to track him. I want to make sure you understand what is about to happen.
At this time we are just hours away from Christmas Eve in some parts of the world. Many of you have yet another day to wait until it is Christmas Eve but for folks in Australia, New Zealand, and the island nations of the South Pacific they are now getting ready for bed soon and will wake up before long to Christmas Eve where they are.
That is an important marker for us. That is when you will hear the live reports on Kringle Radio broadcasting news of Tracking Santa Around the World. (Just use the player below to listen to that broadcast).
News will be broadcast every hour (several times each hour) as the first areas of the world to experience Christmas start their tracking.
Sometime during the hours directly before Santa launches there will be one final test flight of Santa's sleigh. That will be covered in depth here as well.
Santa's launch will be covered live. You can see how far away we are from Santa launching by looking at the countdown clock at the top right hand corner of this page.
Once Santa is in the air, the news updates come in every 15 minutes as the map updates Santa's present location.
Santa will be in flight anywhere from about 32 to 36 total hours, depending on the weather, how things go and if there are any prevailing tail winds.
Santa is scheduled to arrive between 2am and 4am local time around the world. However, things can differ wildly once Santa takes flight. His actual arrival time could be a lot earlier or a lot later, depending on local customs and variables beyond Santa's control.
We will provide wall to wall coverage for all of this over the next 3 straight days. The news elves at the North Pole are on the job!

https://santaupdate.com/wp-content/uploads/2018/12/1222-1500.png
200
450
Elf Ernest
https://santaupdate.com/wp-content/uploads/2023/01/newlogo23f.png
Elf Ernest
2018-12-22 15:00:05
2018-12-20 19:53:33
The Schedule of Tracking Santa