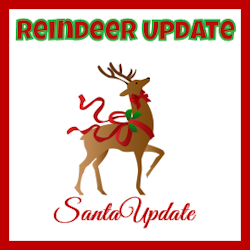 Hi ho! It's the first day of Operation Merry Christmas and things are just buzzing here at the North Pole.
The reindeer today are celebrating their surprise debut at the Elf Parade for Thanksgiving yesterday. They are in high spirits as they begin their final preparations for the Annual Reindeer Games. They are a happy, happy bunch today.
Over at the North Pole Post Office Elf Hugo says that elves there are in their final stages of training. With the added elf staff there are high hopes the Post Office will be able to do a better job of getting messages to Santa.
Likewise, Santa's Workshop is hard at work this morning. In fact, they were the very first to get started, with a shift that began at 2 am. Some of those elves could not have had much sleep, given how late the Thanksgiving Day festivities went yesterday. But they got everything in the workshop turned on hours ago and as I write it now the Workshop is moving along at top speed.
The sleigh boys, as we like to call them, are preparing for a big meeting with Santa early next week to make some decisions about the final design of this year's sleigh. Test flights have already started but they will pick up in frequency after this big meeting is held.
Speaking of Santa, he's not here. He left late last night after everything was done to be out there in the world meeting with children everywhere. Santa says he just loves visiting with all of you.
I've including a radio news report that followed up on the events of yesterday. I am hoping it answers the many questions so many of you have been sending in. Everything is fine, but listen to the report below to hear what happened at the parade yesterday.
Until tomorrow,