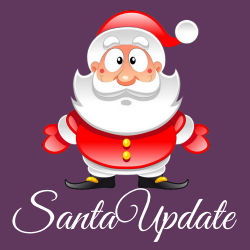 The weekend is complicating mail delivery to Santa this year. So in response the North Pole Post Office has made the decision to activate Stocking Mail.
What is stocking mail?
Stocking mail is a mail delivery system for Santa. Instead of writing a letter, putting it into an envelope and attaching postage to it a letter is instead put into your Christmas stocking. This action, once activated like it has been today, conveys the content of that message to Santa at the North Pole.
It is a very technical process. It is also a very complicated process. Some ask why we just don't use this technology year round and the answer is that it is difficult to get it to work over long periods of time. Over short periods of time — such as this weekend — it works great.
There are other ways to contact Santa if you need to before he takes flight. You could call his voicemail. That phone number is 866-847-2682.
That number is also good for texting Santa.
Or you could send him a message electronically via ElfHQ.com.