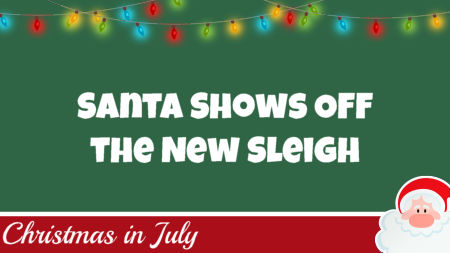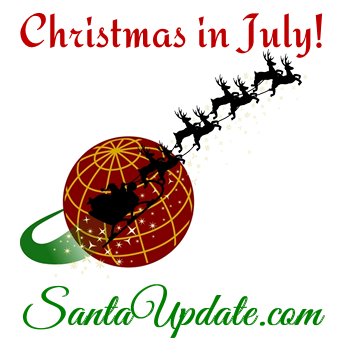 An unexpected development today that was part breaking news and part Christmas-in-July celebration. Santa for the first time ever showed off his new sleigh.
You see, normally, we really don't get to see the new sleigh design until just before Santa launches at Christmas. There are elves that work in the super-secret Research and Development Department who get to see it because they design and build it. But they are very quiet elves. Everything they work on there is top secret so they just don't talk much.
It is a big thing at the North Pole every year to kind of speculate about what Santa's sleigh will look like. Some elves even go so far as to make predictions about the new things Santa's sleigh will be able to do. Some even go so far as to draw pictures. It is a game of great anticipation and the elves love it as a part of their Christmas.
But this year's sleigh is different — kind of like a lot of other things about this year are different. Santa has been really, really involved in not only designing the sleigh but also in getting prototypes of it built.
Oh, that's another thing: this sleigh is not the actual sleigh. It is just the first to get a test flight. But Santa says the look of the sleigh is pretty close, he thinks, to what the final version will look like.
Santa felt that everyone at the North Pole needed a little boost today. So he surprised us by calling everyone together to the Sleigh Barn so we could see the new sleigh. That's the first time that has ever happened.
I don't know which was more fun: seeing the new sleigh or seeing Santa show it off. It was like he was showing off a new puppy. He was so proud and so happy.
And it worked. We did get a big boost out of it.
I couldn't tell you a thing about how effective the new sleigh will be. There were elves there talking about all these big features and capabilities. Some of the more technical elves were really into it. But I couldn't tell much. It just looked like…well, like Santa's sleigh.
The Tracking Department says test flights will begin very soon. I'm guessing next week. We'll keep you posted.



https://santaupdate.com/wp-content/uploads/2020/07/72120.jpg
253
450
Elf Ernest
https://santaupdate.com/wp-content/uploads/2023/01/newlogo23f.png
Elf Ernest
2020-07-21 01:13:57
2020-07-21 01:13:57
Santa Surprises By Showing Off New Sleigh