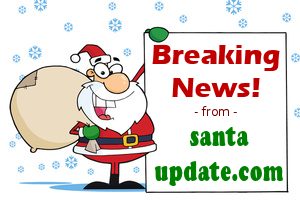 Free chat visits with Santa are coming to Santa Update.
Due to the limitations of this year's Christmas season SantaUpdate.com has a number of ways for believers to have a good Santa experience.
Nothing can substitute for a real visit with Santa. But when it cannot happen this is an outstanding alternative.
As always, it is offered FREE here on Santa Update. You should never be charged money for access to Santa Claus.
~ How Visits with Santa Work ~
Beginning October 25th you can book a visit with Santa.
When you sign-up you will be sent an email confirmation with a special link. At the appointed time you just click on that link and Santa will be there.
Please be aware that Santa follows all rules and regulations regarding Internet safety for children.
Users under the age of 13 are not permitted to sign-up without a parent making the arrangement. As always, the standards of our privacy policy are in force – your information is kept secure and is never sold, rented, shared or used for any other purpose.
Santa has limited time. We are confident that the available time slots will book quickly. Please visit Santa Update often before October 25th for additional details.
~ You can also Chat with an Elf ~
Santa Update will be offering a similar service to chat with an Elf. It works the same way as listed above for the visits with Santa. The only difference is that we don't know yet which elf you are going to get! A number of elves you know and love have signed up to help with this service including Elf Crash Murphy, Elf Frank Myrrh, Elf Max the Miracle Worker, and others you may be aware of if you regularly visit Santa Update.
~ North Pole Group Chat is also Coming ~
We are pleased as well to introduce the North Pole Chat Room, which will be opening soon for scheduled public events.
These chats will feature guest "speakers", North Pole experts and even Santa himself occasionally. That calendar is still being worked on and will be posted soon.
All chat functions are anonymous, so public chat is open to users of any age.
I will be posting some followup information on chats very soon.

https://santaupdate.com/wp-content/uploads/2020/10/101720a.jpg
320
845
Elf Ernest
https://santaupdate.com/wp-content/uploads/2023/01/newlogo23f.png
Elf Ernest
2020-10-16 23:37:15
2020-10-16 23:37:15
Free Chat Visits with Santa