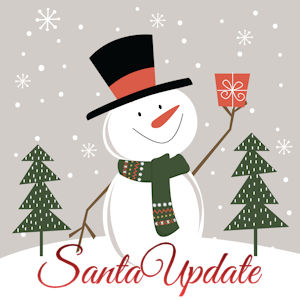 The Thanksgiving Day Elf Parade was a snowy mess but it came off without a hitch as festive crowds greeted both elves and reindeer from the sidelines.
Thousand of people braved white out conditions at the North Pole to participate in the annual event. Elves by the thousands decorated their trikes and then made the uphill ride up Main Street of North Pole Village, many using inventive traction methods to propel them forward in the icy conditions. Likewise the North Pole High School Marching Band, a number of parade floats and 2000 reindeer participated in the merry parade.
Listen to the North Pole Radio News Report from the parade for their report on what happened.
Thanksgiving day is one of fun and games at the North Pole. Before the annual feast of Thanksgiving later today we have the North Pole Bowl, a football game featuring the girl elves vs. the boy elves as well as the World's Biggest Snowball Fight (which ought to be epic this year).
A short break then takes place as elves return home to get dressed up for dinner, which is held at the North Pole Community Center. Santa started the tradition of dressing up for dinner as a way of promoting expressions of gratitude on Thanksgiving Day.
As you know, Thanksgiving is Santa's favorite holiday. He especially loves the Thanksgiving Day Elf Parade, taking a spot on the reviewing stand and clapping while standing with Mrs. Claus the entire time.
Many times over the years the elves have asked Santa to participate in the parade but he says this is one parade he can never be in. He feels it is his duty to stand and applaud all of his hard working elves and reindeer.
The Thanksgiving Day Elf Parade is one that we get a lot of questions about. We remind you that we have a chat scheduled with Santa and Mrs. Claus on Saturday where you can ask questions and get them answered.
After dinner tonight we have two special events planned: the annual walkabout with Santa to see the Christmas lights in North Pole Village happens just after dark. This is a very exciting event because there is a Christmas decorating contest happening. A lot of people think it is just about the lights but actually it's about decorating, which would include lights. It's a major contest that the elves take very seriously.
It is quite an hour to win the award on Thanksgiving night with Santa and the whole North Pole Community if your front yard. Most elves I know really want to win this contest.
After all that is over, most elves retreat to their homes to get a little rest before the start of Operation Merry Christmas — which is what we call the effort between Thanksgiving and Christmas to get Santa launched and around the world.
Most are too excited to sleep and usually watch re-runs of the Thanksgiving Day Elf Parade on TV.
Just after midnight the lights to Santa's Workshop are flipped on and the giant countdown clock that is way up high in the atrium of the Workshop begins to descent. Each day that passes brings the clock down to eye level — where it is will stop once Santa launches from the North Pole.
So you can see why this is such a good day and an important day at the North Pole.
We hope that no matter where you are the blessings of this Thanksgiving attend you and that your day is merry and bright. Stay tuned, friends! A lot more Santa updates are to come in the days ahead.

https://santaupdate.com/wp-content/uploads/2020/11/112620.jpg
320
845
Elf Ernest
https://santaupdate.com/wp-content/uploads/2023/01/newlogo23f.png
Elf Ernest
2020-11-26 09:26:58
2020-11-26 09:26:58
Thanksgiving Day Elf Parade a Big Success