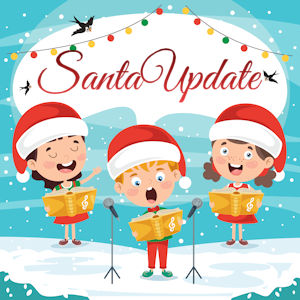 And….it's snowing AGAIN today at the North Pole….
My goodness. There are a lot of exciting things going on at the North Pole. We have the Elf Choir holding their concert in a few days. It is completely sold out. They plan to record the concert so that maybe — FINALLY — we'll have an Elf Choir Christmas album out soon.
It ought to be an interesting concert. I'm told they will have the largest whistling chorus of Jingle Bells ever attempted.
The Elf Choir has become very popular over the years. And they have become better and better too. There are nearly 400 elves in the Choir and you have to pass a very vigorous audition process to even get in the choir. They even have a waiting list for auditions. That's how popular it is.
They would have more elves in the choir but Symphony Hall in North Pole Village just isn't big enough to handle a group bigger than 400-voices.
Part of the reason they are so good is because they practice all year long.
The concert is expected to be about 2 hours long and this year will be very special because Santa and Mrs. Claus will be able to attend. That's a rare thing for any December event at the North Pole. During most years Santa is out and about but not this year. So we're glad to have him here for the concert.
Of course, by now you have no doubt heard about the big Tracker Elf Conference for tomorrow in the North Pole Chatroom. The chat will be public, so you are invited to attend, even if you aren't an elf. You might not understand everything they talk about however.
The conference is for those who track Santa for Santa. That's different than just your normal everyday Santa tracker. These are some serious elves.
Their mission is to help Santa get around the world quickly and safely. They send in reports to the North Pole from places all over the world. Santa calls these tracker elves his secret weapon. He says he just can't do what he does without them. So if you are serious and want to become an elf, Santa would welcome the help.
To learn more about the Tracker Elf Conference, please listen to the radio report below.

https://santaupdate.com/wp-content/uploads/2020/12/121220.jpg
320
845
Elf Ernest
https://santaupdate.com/wp-content/uploads/2023/01/newlogo23f.png
Elf Ernest
2020-12-12 00:44:21
2020-12-11 23:58:41
The Elf Choir Hopes to Record Concert