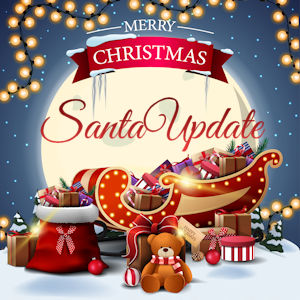 Santa's workshop appears to be performing well this year. That is great news. For the last several years the workshop has been plagued by delays that saw crews there working even after Santa left the North Pole.
It appears the North Pole travel restrictions imposed this year because of the virus have helped the workshop to stay ahead of their goal.
Santa paid a visit to the workshop yesterday and spoke with several elves. He seemed to be pleased with what he saw.
Our North Pole Radio News guys were there too. Elf Crash Murphy had an interesting conversation with an elf working what they call the Goo line. That is a part of the workshop that makes Silly Putty, Gak, Slime, Kinetic Sand and other gooey stuff that kids like to play with. Click on the player below to hear their radio report.
Speaking of North Pole Radio News, today is an exciting day for them. They are meeting in my office today to discuss our big annual radio show that we call Tracking Santa Around the World.
We have done this for many years now and it has become a unique part of tracking Santa. All the news and maps we share are accompanied by live radio reports by news elves we have all over the world. When we send them out we give them a very simple mission: go out and find people who see Santa on Christmas Eve.
We usually do, too. Some people see Santa in the skies and sometimes they see him in their house. When that happens we try to get a news reporter elf there to capture that eye witness report.
Here is an example of an eyewitness report from a couple of years ago on Christmas Eve:
We never know what Santa will run into on Christmas Eve. That's why folks listen to Kringle Radio with the North Pole Radio News reports. They literally tell the stories of Santa while we follow Santa around the world.
Where else are you going to get that.
Please visit this page to see a special video about this very special radio program. It runs for two full days and no matter where you are in the world you can listen to it right here on SantaUpdate.com.
https://santaupdate.com/wp-content/uploads/2020/12/121520.jpg
320
845
Elf Ernest
https://santaupdate.com/wp-content/uploads/2023/01/newlogo23f.png
Elf Ernest
2020-12-16 00:26:27
2020-12-16 00:26:27
Santa's Workshop Production Looks On Target