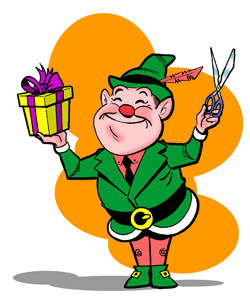 Elf Wally of the North Pole Wrapping Department will chat later today in the North Pole Chat Room. It is Wally's North Pole Chat debut. The event is planned for 4pm EST today.
The North Pole has been working hard to send expert elves to North Pole Chat to answer questions about Santa, the North Pole and elf life at the North Pole. The wrapping department is not the first place people think of when they think of the North Pole. However, enough questions have come in about the department and the processes of wrapping gifts that Wally was invited to come chat.
The Wrapping Department has charge of not only wrapping presents but seeing that the sleigh is packed correctly and on time.
They gather and organize all the goodies that Santa puts into stockings around the world and make certain that every gift has some sort of tag with names that are spelled correctly. The elves working the wrapping department have to be very social and diplomatic because they have to work with just about every other area in the Santa effort from the workshop to the Records Department.
That's why Elf Wally is in charge there now.
Elf Wally has been the weather man on the local television station here at the North Pole for several years. Everybody knows who he is, and, more importantly, they love him.
You see, being a weather man at the North Pole is not much of a challenge. It snows all the time. Wally is famous for not only reporting the weather but also for making it interesting, funny and must-see tv.
Now he takes his considerable talents to the Wrapping Department — one of the highest pressure jobs at the North Pole. Santa insists that everything is presentable and Wally helps to make each gift perfect.


https://santaupdate.com/wp-content/uploads/2020/12/121820-0900.jpg
320
845
Elf Ernest
https://santaupdate.com/wp-content/uploads/2023/01/newlogo23f.png
Elf Ernest
2020-12-18 09:00:33
2020-12-17 20:34:07
Elf Wally to Debut in North Pole Chat