The North Pole is hiring and promoting like crazy these days. Santa's call for 200 million new tracker elves to help track Santa for Santa this year has resulted in an unprecedented season for the Department of Elf Resources. Elf Sandy Claus, head of ER, says the numbers of applications they are handling are massive.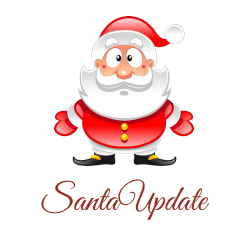 "We will release the latest numbers for last month later this week and while the worldwide hiring totals are impressive what we're seeing in North America just shatters all records," Elf Sandy said. Today at SantaTrackers.net Elf Sandy posted the first of several elf promotions related to the Santa tracker elf effort. She says the ER department will be posting promotions and updating elf maps for weeks.
"We are hiring elves to help with the hiring of other elves," Sandy said. "Even though the numbers are going to show massive growth they still show how much we need to do in the next two months. 200 million elves is a huge number and frankly I don't know how we're going to do it."
If you are not yet an elf, now would be a good time to get going. The first step is to learn the Elf Code and to take the Elf Oath. That is done at ElfHQ.com.
"I want people to understand that just learning the code and taking the oath is not enough. Being an elf is not enough. Once you do those things you need an elf job. Santa needs elves. This kind of experience is so valuable and it looks great on a resume." Elf Sandy said. "But don't sit around glorifying yourself at merely being an elf. Do something. Help! Santa has so many needs to fill — and they are mostly remote, work-from-home positions."
Sandy says the number of older elves are growing the fastest. People with world experience in other jobs – managers, writers, drivers, teachers and many other professionals – find a lot of joy working for Santa. Again, North America leads the hiring in this category.
Elf Sandy says the greatest needs and, frankly, most of the Department of Elf Resources energy is being poured into hiring at SantaTrackers.net. Please go there and apply for an elf job today!

https://santaupdate.com/wp-content/uploads/2021/10/101921.jpg
320
845
Elf Ernest
https://santaupdate.com/wp-content/uploads/2023/01/newlogo23f.png
Elf Ernest
2021-10-19 10:45:34
2021-10-19 10:46:53
The North Pole is Hiring and Promoting