Operation Merry Christmas is what we call the final phase of Santa's mission each year – the delivery phase.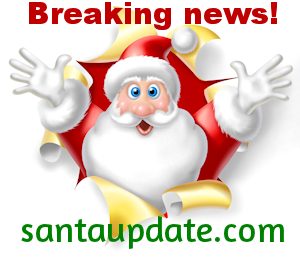 Why are we talking about delivery with about a month to go?
Well, it is because every department at the North Pole should be meeting their goals in the next few weeks. The big goal, for every department, is to meet their objectives before Santa takes off.
Of course, for some departments that is a big job – such as Santa's Workshop. They got into a lot of trouble last Christmas Eve when a big mistake was noticed at the last minute. The North Pole had to scramble to make up for that mistake and thousands of elves worked long into the night after Santa left to get things done.
For some departments the job is impossible. For example, the North Pole Post Office keeps working even after Santa leaves. They feed Santa all the messages he receives direct to him on the sleigh. Even when Santa returns to the North Pole their job is not done because by then the thank you messages begin to arrive.
The Wrapping Department is another one that struggles to be done. They cannot finish their work until the Workshop has completed its mission.
So Operation Merry Christmas is a complicated thing. And overseeing it all is another department – North Pole Flight Command. They manage Santa's flight. If other departments are not on the ball, North Pole Flight Command cannot do their job.
This day-after-Thanksgiving tradition of Operation Merry Christmas is therefore a very important day in the mission of Santa.
It's so important that Santa does not leave the North Pole after Thanksgiving until he is certain of where every department sits in regards to their goals. Sometimes he does not leave if there is a department having problems.
Very, very early this morning Santa was in the workshop and after receiving a report from every department he started the big countdown clock in the Workshop. It falls a little each day from high in the bell tower of the Workshop. It will reach eye-level on Christmas Eve just before launch. That is when everyone is supposed to be done.
You will be pleased to know that Santa started the clock this morning – and he left the North Pole.
His mission, between now and Christmas, is to meet with as many people as he possibly can. You will remember that last year he could not do that after Thanksgiving. So he has a very packed travel schedule this year and, of course, Santa still needs to travel wearing a mask and taking certain safety steps before meeting with people.
There is a lot of be done now. We hope you check in daily with us as we will provide a Santa Update, as we customarily do, at least once per day between now and when Santa launches. Sometimes it may be necessary to share more news than that.
So check back with us frequently each day.
Also, check out the North Pole Radio News report from Santa's workshop from earlier today. Elf Crash Murphy speaks with an elf who was there during the mess last Christmas Eve.

https://santaupdate.com/wp-content/uploads/2021/11/112621.jpg
321
845
Elf Ernest
https://santaupdate.com/wp-content/uploads/2023/01/newlogo23f.png
Elf Ernest
2021-11-26 00:02:40
2021-11-25 23:19:59
Operation Merry Christmas Off to a Fast Start