Two year old reindeer joining the Reindeer Games this year are getting some attention as the games got underway yesterday. Snickers, Trixie and Helga surprised in the early going with strong showings against more experienced reindeer such as Blitzen, Vixen and Rudolph.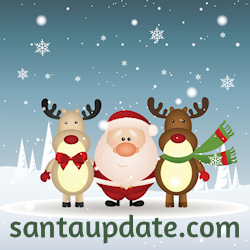 Their performance yesterday means they can stay in the competition. They can medal in specific events or even gain enough points to win the games altogether. It is rare for a two year old to win the games but it has happened before.
The games yesterday were all about the preliminaries – which is a round of competition designed to narrow the field. Thousands of reindeer compete but to get to the medal rounds they have to do well enough in the preliminaries.
The games were well attended yesterday even though the weather outside was terrible. It was cold and we had white-out conditions most of the day. Rules of the Reindeer Games state that the competition cannot be postponed due to weather. It is just a natural part of the games. So records rarely fall in bad weather and sometimes the weather can impact the outcome, though that did not seem to affect things much yesterday.
In the North Pole Radio News report that you can play below Elf Crash Murphy talks  not only about the two year old but also about all the other reindeer who did well yesterday.
The games go all this week and we will know tomorrow who is in the lead.

https://santaupdate.com/wp-content/uploads/2021/12/120121.jpg
320
845
Elf Ernest
https://santaupdate.com/wp-content/uploads/2023/01/newlogo23f.png
Elf Ernest
2021-12-01 07:12:22
2021-12-01 07:10:07
Two Year Old Reindeer Surprises at the Reindeer Games