Thunderbells – the call sign used by Elf Norman Dreisen – was used today to identify him as the pilot for the final test flight of Santa's sleigh.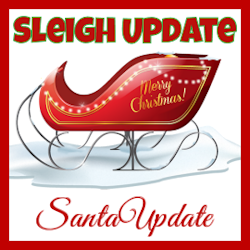 Santa's sleigh returned to the North Pole on Monday after it was decided by North Pole Flight Command that there was nothing more to be accomplished by further test flights and that it was best to return to the North Pole for safety reasons.
So why is there a "final" test flight in the hours just before Santa takes off in the sleigh?
Part of it is tradition. But it also serves a very useful purpose that is transparent to most Santa fans: the final test flight is sent to areas of the world that are of utmost concern to Santa in the hours before he takes off. They map, they take pictures, and they gather information about the weather, ground conditions and other concerns about particular locations.
Thunderbells, so-called due to continual breaking of the sound barrier while he flies, is a distinguished pilot at the North Pole. Elf Norman has been a test pilot for decades and is something of a legend. There isn't a sleigh he hasn't flown and there isn't a situation where he hasn't fearlessly taken a sleigh into. He will fly in any weather with any reindeer he can find.
Piloting the final test flight is considered a big honor in the world of sleigh test pilots and elves. This is not the first time Elf Norman has had the honor.
Santa's test flight usually flies in the hours before Santa takes off. Some years it is a long flight – as long as fifteen hours in some cases – and some years it only lasts a few hours.
Since the final mission is a classified journey there is not much else we can tell you about it at this time. However, as usual as well, Elf Crash Murphy will be on that flight and will report on North Pole Radio News from the final test flight during the worldwide radio broadcast that begins in the wee hours of December 23rd.

https://santaupdate.com/wp-content/uploads/2021/12/122221b.jpg
320
845
Elf Ernest
https://santaupdate.com/wp-content/uploads/2023/01/newlogo23f.png
Elf Ernest
2021-12-22 11:50:27
2021-12-21 22:27:13
Thunderbells to Pilot Final Test Flight