Elf Rusty Belz, veteran radio newsman who has served as the voice of North Pole Radio since its inception, has announced his retirement. It is effective immediately.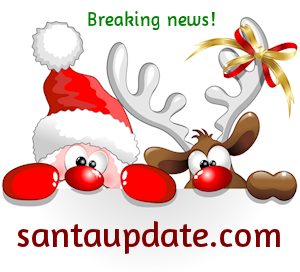 News of his retirement has shocked most at the North Pole. Rusty was more than just a voice on the radio. He covered local hockey teams, emceed events at the North Pole Village events center, and donated his time and talents to local high schools, churches and other places where an announcer was needed.
Rusty was famous for his recitation of the Nativity story from the Book of Luke at the Christmas Devotional held every year at the North Pole Chapel. And his strong bass voice has anchored the Elf Choir for decades.
Rusty worked in commercial radio for decades at WVIP in West Virginia, USA, during the summer months. He also served as a radio correspondent during World War II, the Korean War and in Vietnam. His voice was heard on many radio commercials, documentaries and corporate training productions.
Rusty invented tracking Santa on the radio. During a snowy Christmas Eve that was particularly stressful on Mrs. Claus Rusty hooked up a phone line from Flight Command to the Claus residence so that he could provide Mrs. Claus updates of Santa's known position.
The gesture was one that Mrs. Claus considered a great gift. This was during a time when there was no Internet and no computer technology that allowed for instant information (things like the sleigh cam).
Using his contacts among elves in Flight Command, Rusty was able to relay information of Santa's activities from trackers in the field to mappers in Flight Command. His reassuring updates were followed by soothing Christmas music. Mrs. Claus has often said that Rusty's deep voice and bright delivery were always a comfort to her in conveying that Santa was safe.
Through out the 1930s and 1940s, Rusty's broadcast was a private affair broadcast directly to the Claus residence.
Sometime after World War II – some think it was the year 1947 – Rusty's broadcast was shared to all at the North Pole via Kringle Radio, where Rusty worked as a DJ.
In 1952 North Pole Radio News was founded with Elf Rusty Belz hired as the News Director and lead anchor – a role he would never officially relinquish.
As the radio efforts at the North Pole expanded Elf Rusty was instrumental in hiring and training new voice talent. He recruited Elves Frank Myrrh, Red Stocking, Holly Berry and other voices now famous for their Santa Tracking news reports.
Elf Rusty moved permanently to the North Pole in the late 1980s, after retiring from commercial work in traditional terrestrial radio in the United States. Santa invited Rusty to take an expanded role in worldwide delivery of North Pole Radio News on Christmas.
Rusty "retired" then into exclusive North Pole radio and news duties – anchoring, writing and producing for North Pole News. He has remained a close confidant of Santa during all those years.
An upcoming episode of the North Pole Podcast will feature more about Rusty's service in North Pole Radio News, including sound clips from his history on Kringle Radio.
Here's a clip from Santa tracking from several years ago that showcases the kind of work Rusty has done all over the world for North Pole Radio News:
Elf Rusty's absence will be felt keenly in the years ahead as the tradition of North Pole Radio News and tracking Santa each Christmas on Kringle Radio continues. Rusty plans to remain at the North Pole with his wife, Dusty, and their little dog, Toby.

https://santaupdate.com/wp-content/uploads/2022/02/022722.jpg
320
845
Elf Frank Myrrh
https://santaupdate.com/wp-content/uploads/2023/01/newlogo23f.png
Elf Frank Myrrh
2022-02-27 00:01:23
2022-02-26 12:52:48
Elf Rusty Belz Announces Retirement