Last week 12 sleighs were transferred to South America, where it is winter, and the annual test flights of the prototypes of Santa's sleigh are now underway.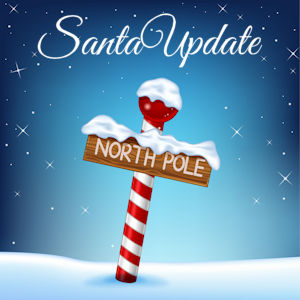 That means that tracking season is in full swing for tracker elves and fans of Santa around the world.
Santa himself is not test flying the sleigh. He never rules out the possibility but for the most part he lets his teams of professional test pilots and flight engineers from North Pole Flight Command do that work. From now thru just a day before Santa takes flight they will test the sleigh to perfect it for Santa's flight around the world on Christmas Eve.
That effort takes the energy of several departments at the North Pole. It is directed under the authority of North Pole Flight Command, who has set up regional tracking centers in five sectors around the world. Right now, the regional tracking center located in Milagro, Ecuador is following the current test flights. The tracking map is available for tracker elves worldwide at SantaTrackers.net.
There are other signs of the coming season and tracking Santa out there. For example, today North Pole Flight Command announced that Santa has expanded the North Pole Navy, and that fleet of ships have been assigned to different places around the globe. They will support flight operations at the North Pole as well as assist in tracking Santa when the time comes.
For tracker elves, all this activity means they are on the job – right now.
Elf Roger Star, International Director Santa Trackers, has said it is a new era in tracking Santa. The hopes are that the millions around the world who work "tracking Santa for Santa" will improve in their efficiency by signing in early and contributing often to the reporting efforts that help Santa fly safely each Christmas.
During Christmas in July a tracker elf press conference was held where a new goal of 1 billion tracker reports was announced. Those reports are just now starting to pile up.
What kind of reports can be filed now that help Santa get around the world?
Well, that's the business of tracker elves. It is all explained at SantaTrackers.net.
If you want to be a tracker elf, tracking Santa for Santa, it's possible. But starting this year it is a bit harder to start your elf career. According to Elf Roger, a new elf has to "prove himself or herself" during a probationary period that lasts 90 days. If you can do it for 90-days you can do it for life.
But you gotta work for it.
And that, my friends, it what tracking Santa is all about. Work. Good work. Elf work. Santa work.
You can expect a lot of news from this point forward. We will do our best to keep you informed.

https://santaupdate.com/wp-content/uploads/2022/07/073122.png
320
845
Elf Ernest
https://santaupdate.com/wp-content/uploads/2023/01/newlogo23f.png
Elf Ernest
2022-08-01 00:02:14
2022-07-31 21:19:10
Tracking Season in Full Swing