Dasher and Prancer, two of Santa's fastest reindeer and members of Santa's famed A-team of reindeer, have just been assigned to serve on a temporary basis on the test flight team of Santa's sleigh.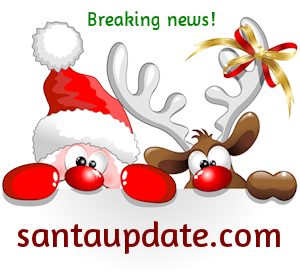 North Pole Flight Command reported a short time ago that Dasher and Prancer will meet up with the team in Sector 2, somewhere in Asia at this time, where a new version of Santa's sleigh designed for this year's flight has been sent for testing.
As Flight Command notes, this is a very unusual arrangement, something that has not been done in decades. In the radio news report, as you can listen to it in the player above, Elf Crash Murphy mentions this can be "dangerous" for the reindeer.
In talking with Elf Victor about that he told me the concern is for injury to Dasher or Prancer while on this assignment. The Reindeer Operations Department is charged with getting Santa's team ready for Christmas Eve duty, which includes keeping them safe from injury. The reindeer train seriously but Victor says that safety is always top of mind in order to ensure Santa has his full team of his best reindeer for Christmas Eve.
Elf Victor says he is concerned for Dasher and Prancer but he is confident the test flight team and their handlers will do all they can to keep them safe and healthy. The test flights take the sleigh on round-the-clock missions to test the sleigh under all kinds of conditions. It is not an easy assignment to be a test flight reindeer.
Why Dasher and Prancer are needed has not been disclosed by Flight Command at this time.
We will keep you updated on this developing story.

https://santaupdate.com/wp-content/uploads/2022/10/101322.png
320
845
Elf Harold Star
https://santaupdate.com/wp-content/uploads/2023/01/newlogo23f.png
Elf Harold Star
2022-10-13 19:44:57
2022-10-13 19:47:58
Dasher and Prancer Sent to Test Flight Team