Christmas is sneaking up on a lot of folks. A report today from the North Pole Post Office indicates that some people do not realize Christmas is as close as it is. There even seems to be some anxiety about it.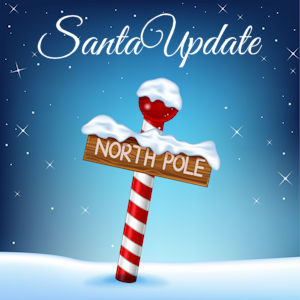 Santa says to relax.
In fact, in today's North Pole Radio News report, Elves Frank and Crash talk about how Christmas takes people by surprise whenever it falls on a weekend – and especially on a Sunday, as it does this year. You can listen to that report in the player above.
Christmas is just one of those days where everyone wants to get the details exactly right. In fact, Santa published a video that went out today to all working elves at the North Pole talking about "over thinking" Christmas.
It's something that happens a lot here at the North Pole. Our new year always begins by setting goals. That leads us to make detailed plans. Those plans turn into endless lists. We make them, we do them, we check them and we re-check them.
I think it comes from the fact that we see Santa work so hard to serve other people. Good things happen when he does. Everyone feels good when people are happy. So, as elves, we work hard to duplicate that feeling as much as we can. We just want to get things right.
While Santa encourages excellence in all that we do he told us in this new video to not be so hard on ourselves and each other for little mistakes. Nobody is perfect, Santa reminds us.
In fact, Santa told the story of how he messed up Mrs. Claus' Christmas stocking.
He had made her a special gift – a jewelry box. It was a totally handmade little box – a tiny little jewelry box that Mrs. Claus could take with her when she travelled. Santa thought it would be perfect to put this gift in Mrs. Claus' stocking because it would be a big surprise.
You see, Santa usually filled Mrs. Claus' stocking with little things like candy and toothbrushes and make-up or little travel size bottles of shampoo and things. He had never put a gift so special before in her stocking.
So, with this in mind, Santa went to work during the summer to make this box. As with most things, Santa's idea for the box grew. He wanted it to be shiny on the outside but soft and velvety on the inside.
Then he thought it would be cool if the box played a little song when it was opened – a special song that had meaning for Santa and Mrs. Claus. So he went to Elf Herman in the sleigh bell department who is a metals craftsman. Herman made the musical movement in the exact tiny size that Santa required. Then Santa spent days at a time in his personal workshop making it all work.
The box turned out beautiful.
On Christmas Eve, Santa put the box into Mrs. Claus' stocking – wrapped, of course – and, just as Santa had designed it, the box fit perfectly in Mrs. Claus' stocking.
When the moment of truth arrived and Mrs. Claus discovered the wrapped box in her stocking she said, "Oooohhh, what can this be?" and she tore off the paper.
She was a little perplexed at first. She said, "That looks like a miniature jewelry box!". Santa just smiled, sure he had accomplished his goal of surprise and delight. Mrs. Claus opened the box and the song played. She squealed with delight.
"It's playing our song! It's a music box." Mrs. Claus said. But Santa frowned. It was NOT a music box. The more Mrs. Claus looked at the box the more confused she became. "Honey," she said. "You made this?"
Santa said, "Yes, I did. Just for you."
Mrs. Claus said it was beautiful. She ran her fingers over the lush deep blue velvet inside the box. Then she said something Santa never expected. "What's it for?" Mrs. Claus asked.
Santa explained it was a jewelry box – something she could put her jewelry in when she travelled. Mrs. Claus laughed. She LAUGHED. And then she said, "You're joking, right? This box might hold one earring – if I squish it in there."
Santa realized then that in his rush to get the box done he had focused more on making it fit in the stocking than he did on making it work for Mrs. Claus to actually use. The box was beautiful but it was worthless for its intended purpose.
Santa said the experience was a good example of sweating details that were not important – and of forgetting the real purpose of what we're doing. The point, Santa said, "is that the main thing is to keep the main thing the main thing".
Santa is encouraging the elves in every department at the North Pole to keep things in perspective on this last Tuesday before Christmas. He wants us to try hard, like we always do, but to focus on the main thing, which is Christmas – which is love – which is fun – which is joy.
It's a good reminder.
Look, we're all busy. Christmas makes us all really busy. And we all want to get it right. We just need to keep the main thing the main thing.

https://santaupdate.com/wp-content/uploads/2022/12/122022.png
320
845
Elf Ernest
https://santaupdate.com/wp-content/uploads/2023/01/newlogo23f.png
Elf Ernest
2022-12-20 00:01:37
2022-12-19 19:33:59
Christmas is Sneaking Up on You