Hi everyone! There are 27 weeks until Christmas.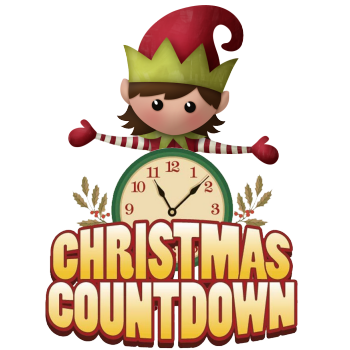 Today is Father's Day. So happy Father's Day to everyone out there – including my daddy who I miss so very much.
I'm sorry to be posting this so late today. One of the things so clearly on the minds of our readers is whether or not we celebrate things like Father's Day at the North Pole.
The answer is yes, we do. In fact, that is kind of why I'm late posting up the update to our countdown today. I've been involved in celebrating Father's Day.
Well, actually, I slept in a little bit today. I've been suffering from allergies. Yes, we get those at the North Pole too.
So I took some medications to help with my stuffy nose and it made me so sleepy. But when I did get up I called my father first thing and wished him a Happy Father's Day.
He still has a hard time believing I live and work at the North Pole. I mean – he's been here. He knows for sure. But it is an idea that still just blows him away.
My Dad is a big kid at heart. He makes me laugh. He is one of those who believed in Santa when he was a kid, then stopped believing when he was a teenager, then believed again when me and my siblings were born, then didn't believe in Santa again.
That's a very familiar story. It happens to a lot of people. But when I came to the North Pole to study at Southern North Pole University he started to believe in Santa again.
Of course, coming here to see his little girl and meeting Santa all over again certainly helped.
But, like believers everywhere Daddy still has questions: like the one about Santa being a Dad and celebrating Father's Day.
So, to answer Dad and to answer many of you, yes: Santa is a Dad and the Claus family celebrates Father's Day.
Of course, as many Dads all over the world sometimes have to do, Santa is working this Father's Day and is not home to celebrate with his family.
I'll tell you right now this isn't a big deal. They understand. Most years Santa is here for a day like this. Just not this year.
Santa's family understands his occasional tradition of walkabout. It does not happen every year but it happens. This is not the first time.
Once, when Santa's children were quite little, Santa went away on walkabout and one of his boys broke an arm playing at the park. He went over a fence to chase a ball and fell off it coming back to the field.
Santa read about it in the North Pole news the next day and came rushing home to see if his son was okay.
Now, that's a simple story. But I share it because I think it shows how much Dads miss and worry about their families as much as the family worries about him.
Yes, Mr. and Mrs. Claus have children. Yes, Mr. and Mrs. Claus have grandchildren.
I don't know why that surprises anyone.
Do Santa's children know who he is? Do they know he is Santa Claus?
Yes, they do.
What is it like being Santa's kid?
Well, since we last talked about this around Mother's Day the mail has been non-stop.
I think it would be good to interview one of Santa's adult children. I've asked Mrs. Claus if I could do that and write a story and she told me she needs to think about it. And, oh, I'd have to clear it with Santa, too.
Well, since Santa isn't around, I can't ask him. So that idea will have to wait a while. But I think talking with one of Santa's children would go a long way to answering some of your questions.
It is okay that you have questions, guys. Heck, I've been here several years now and I have more questions than ever.
But I understand why Santa and his family might have reservations about answering questions we might have like this.
Santa is an important guy to many, many people around the world.
Wherever Santa is I want to wish him a happy Father's Day. I don't need to ask anyone a question to know that Santa is an awesome Dad. His family really loves him and you can tell that just by talking with them.
So Santa, wherever you are today, Happy Father's Day and thank you for everything that you do. Please stay safe and come home soon!

https://santaupdate.com/wp-content/uploads/2023/06/061823.png
321
845
Elf Trixie
https://santaupdate.com/wp-content/uploads/2023/01/newlogo23f.png
Elf Trixie
2023-06-18 20:35:42
2023-06-18 20:32:08
27 Weeks Until Christmas