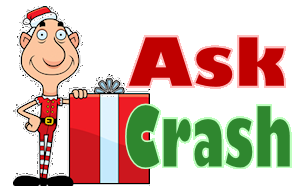 If you have listened to the North Pole Radio News you know who Elf Crash Murphy is — he is the North Pole Eye-in-the-Sky reporter that follows Santa in a chaser sleigh and reports his location as he makes his way around the world.
Crash will be back with Elf Frank Myrrh with new updates on Kringle Radio that will be featured right here on Santa Update starting September 24th.
Crash wants to help answer your questions. He will take several questions each week and you can hear them each time you visit Santa Update. To see the archive of questions Crash has already answered, click here.
If you've got questions about anything having to do with Santa, the North Pole, Operation Merry Christmas, the flight of the sleigh — anything! — just ask Crash: