Elf Ernest
Sr. Vice President – Public Relations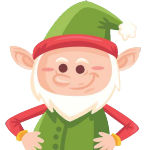 I am a real person and genuine elf.
I was born the 3rd of five children and maintain all the sterling qualities so abundantly found and admired in middle children. And while I have suffered from MCS all my life — that's Middle Child Syndrome — I have been blessed with opportunities to serve others and to experience the best of love this life has to offer.
I attended the University of Southern North Pole Territory, majored in English, with a minor in History. I pursued an advanced degree in Christmasology at the Claus Academy and thereafter earned a doctorate in Merriment Studies.
I apprenticed in Santa's Stables, where I learned an ancient farmer's dialect allowing me to communicate with reindeer. When the Reindeer Liberation Organization mounted a strike against Santa in 1972, I was a member of the negotiating team. My efforts there led to an employment offer from the Santa Organization, where I began my service as an elf in the Claus compound.
I was assigned to Workshop duty my first year — that's kind of like basic training in the Army — all elves have to go through it — and then found my permanent home in Santa's mail room. I have been performing duties related to Santa's public contacts for over 25 years now. In 1980, I was promoted to the new public relations department, which I now direct.
As Santa's Vice President of Public Relations, it is my duty to provide the world with news and information regarding all things Christmas. I have been published in newspapers around the world, interviewed for magazines and featured on TV specials on every major network.
I live at the North Pole with my wife, our seven children and our delightful dog and good friend, Skipper. In my spare time I enjoy baseball, reading books of all kinds, the Internet, camping and decorating our home for, you guessed it, Christmas.