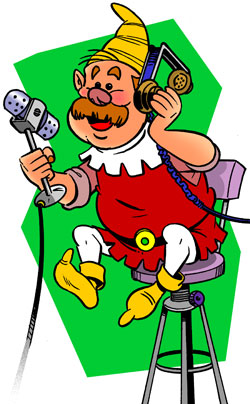 Famed newsman Rusty Belz, a 65-year veteran of radio broadcasting on station WVIP in West Virginia USA, has been a steady voice each Christmas on Kringle Radio for many years.
Mr. Belz has covered a lot of news over the course of his career but none was bigger than the interview he scored with Santa Claus for Christmas 2010. In that interview he struck up a friendship with Santa and after months of long conversation Rusty decided to hang up his commercial broadcast career for good and join the ranks of elves working in Santa's newsroom at the North Pole.
Rusty admits that he doesn't know much about being an elf and that his months of intensive training under the direction of Santa himself has been very surprising. "I had no idea everything that goes into being an elf," Rusty said. "It takes a great deal of dedication, a real love of Christmas and, of course, los of hard work. I hope I am up to it at my age."
Rusty might feel like he's old now but actually he is a lot younger than many of the elves in Santa's employ.
Never have we had a feature at the North Pole so popular as Rusty's first-ever broadcast of North Pole news just before Thanksgiving 2010. Within 24 hours more than 12,000 downloads of Rusty's report was registered at SantaUpdate.com.
Here is one of Rusty's reports:
Rusty now resides at the North Pole with his wife Dusty and their dog, Amadeus.