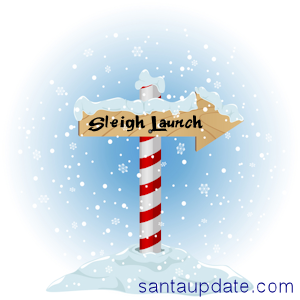 Welcome! You have come to a very special website.
My name is Elf Ernest and I am Santa's Vice President of Public Relations here at the North Pole.
Unlike other websites out there this site tracks Santa every day of the year. Click here to read why Santa tracking is better here.
Our job is to tell you the story of Santa.
We have been doing it since 1991.
It is a big story to tell every year. So very much goes on. We often get to hear things straight from Santa himself.
We tell you what Santa thinks. You will learn how Santa celebrates Christmas and what the seasons mean to him. By bringing you that story you learn to understand how Santa does it and why he does it.
Then, on one very special day — Christmas Eve! — we track Santa's annual flight around the world.
These are more than just pin points on a map. We send out an update every 15 minutes and we spell out exactly where Santa is, where he is going and what he has to say to people as he visits the different lands of the world.
Our website here also gives you ways to contact Santa privately, how to get off the naughty list, plus all the information you could ever want to know about the elves at the North Pole — and how to even become an elf yourself!
Won't you join us in counting down the days to Santa's launch? Join us as we celebrate Christmas here at SantaUpdate.com!