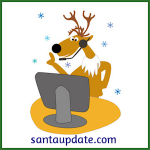 You're invited every December 23rd to tune in right here to listen to Kringle Radio — Santa's radio station at the North Pole!
Starting on that special day the radio broadcast news team made up of the elves you see featured below begin an epic 50+ hour radio program tracking Santa. There's nothing else like it in all the world! Click the player below to hear Santa explain it:
These are the professional radio elves who bring you news each Christmas: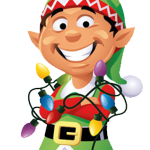 Elf Frank Myrrh is one of the original North Pole news broadcasters on Kringle Radio. He is a dedicated elf who's live reports from all over the North Pole are known around the world. Here is a news report Frank filed from the North Pole Tracking Center last Christmas in the hours before Santa launched: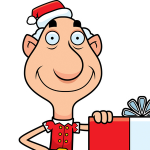 Flying high in the air right behind Santa's sleigh is eye-in-the-sky reporter, Elf Crash Murphy. As you might be able to tell from his accent, Crash is not native to the North Pole. Santa kind of adopted Crash when he was a teenager and brought him to the North Pole to be an elf. After working for a while as a tape dispenser technician in the Wrapping Department, Elf Crash soon found his place as a roving reporter taking on one of the most dangerous assignments for an elf — to follow Santa on Christmas Eve. His reports have become legendary, as has his sense of humor. Here is a report from Crash: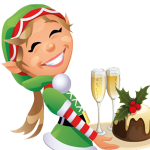 The North Pole also stations reporters in strategic locations around the world to track Santa and to report on location conditions for Christmas. Elf Merry Ann Brite is one of the new voices of the North Pole radio news team and last year she anchored from the tracking center in South America. Here is one of her reports: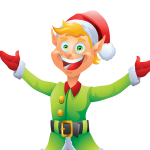 He is sensational, he's loud, he's enthusiastic — he's Elf Red Stocking, veteran news reporter and passionate Santa fan. Elf Red Stocking is an emotional voice and an eager presenter of news relating to all things Santa. When he is not reporting the news, Red spins the Christmas tunes you hear on Kringle Radio. With his outrageous wit, undying devotion to Santa Claus and his superior interviewing skills Red is one of the more popular voices behind North Pole radio news.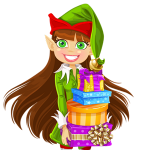 Elf Holly Berry began as a sleigh traffic reporter years ago and has since become a steady and regular voice of North Pole Radio News. She has traveled the world to report on Christmas and has interviewed some of the world's foremost experts on sleigh flight. She is a serious reporter with great skills, and rarely gets flustered in her reports every Christmas Eve. Take a listen to one of her reports: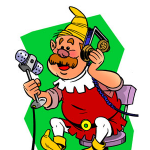 He is the old man of radio news — Elf Rusty Belz. After a 60-year career in radio in West Virginia, Rusty came to the North Pole and produced the first on-air news reports from the North Pole. In fact, he's the producer of all radio news at the North Pole and is responsible for hiring all the brilliant voices you hear on Kringle Radio. Rusty may not report as often as some of the other elves but his deep resonant voice speaks to generations of Santa fans all over the world.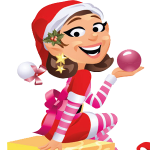 Elf Roz reports from exotic locations around the world and brings an international flare to our radio broadcasts. She speaks many languages and has no problem reporting from almost any location or situation. Elf Roz is a fantastic interviewer and gets quickly to the facts in her reports. Here is a sample:

Another new voice to North Pole radio news is Elf Doug Fir, a well-known and beloved former anchor of public radio. Semi-retired now, Elf Doug travels the world to report on believers and trackers of Santa everywhere. Last year was his first on our Christmas Eve broadcast and this was one of his more memorable reports: