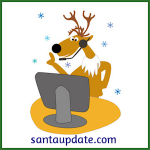 You're invited every December 23rd to tune in right here to listen to Kringle Radio — Santa's radio station at the North Pole.
Starting on that special day the Kringle Radio broadcast news team begins an epic 50+ hour radio program tracking Santa.
There's nothing else like it in all the world! Click the player below to hear Santa explain it:
That radio broadcast is just part of what the news team does — there is news broadcast every day on Kringle Radio and we try to feature it as much as we can right here on SantaUpdate.com in our regular news reports.
Here are some of the radio personalities you will hear on Kringle Radio:
Latest North Pole Radio News Reports (2018) — Listen Here