North Pole Radio News is just what it sounds like: it is the news we listen to here at the North Pole on the radio.
We like to share some of the radio we enjoy here at the North Pole.
You're invited every December 23rd to tune in right here to listen to Kringle Radio — Santa's radio station at the North Pole.
Starting on that special day the Kringle Radio broadcast news team begins an epic 50+ hour radio program tracking Santa.
The story of Santa's trip around the world takes a full year to tell. We tell the story from the perspective of the North Pole, the elves and from Santa himself. Kringle Radio plays full time classic Christmas music that is interrupted only by Santa Updates.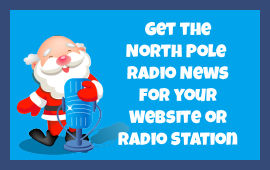 The Santa Updates of December 23rd, 24th and 25th are different than the rest of the year. The news comes fast. There are at least four updates per hour once Santa launches and sometimes more. We get that news out on the radio, on our website and even by way of text. It's North Pole news — not available anywhere else.
It's more than a picture of Santa on a map (although we have that too).
That radio broadcast is just part of what the news team does. You will get to know them all — Elves Frank Myrrh, Red Stocking, Crash Murphy, Holly Berry, Al Pyne, Roz, and Merry Ann Brite.
Below are the news reports so far from this holiday season
Below is an archive of great North Pole Radio News reports from previous Christmas seasons that might answer some of your questions about Santa, life at the North Pole and the world of elves: