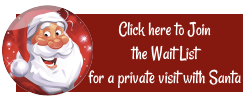 Schedule an appointment for a visit with Santa! Santa loves to chat with children and families together. We recognize that our public chat room is not the place to do this. So we have set up this safe, distraction-free page to have a little one-on-one time with Santa.
Santa is a stickler for keeping the rules. The rules say that if you are 13-years old or younger you need to have a parent or guardian with you online if you are to have contact with another person on the Internet. So if you want to talk with Santa privately you must have your parent sign you up via this page.
Please be advised: in order to accommodate this process we MUST collect your email address. The scheduling system will send you a private link that you can access at your appointment time. Nobody from SantaUpdate.com or the North Pole will ever personally contact you. So watch for the automated emails and follow the instructions.
Per our privacy policy, the purposes of the collection of your email and other information about you is to facilitate this process. Your information is NOT stored and, of course, is never shared, sold, rented or used by any third parties.
Also, this is a FREE service, as all services with the real Santa are.
Due to the popularity of this feature we encourage you to make an appointment early and to keep it! You likely will not get a 2nd chance this season to meet with Santa one-on-one!
We also offer: