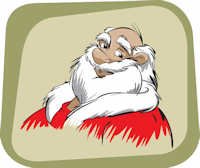 Once a year and only once a year Santa grants an interview with the media. The results of this year's interview can be seen at this link.
Why does Santa talk to reporters only once a year?
Well, when you're as old as Santa is you get tired of answering the same old questions. Santa has seen it all, done it all and knows just about every place in the world. Besides, he just doesn't like the attention. As he says in this interview, Christmas just isn't about Santa Claus.
That is part of the reason why we do what we do here in the Public Relations Department at the North Pole — we try to do as much talking for Santa as we can. He really likes to spend his time talking instead with kids and Moms and Dads. He says he is better at the one-on-one stuff instead of in interviews.
We're approaching about 81 days now until Santa launches and it is starting to feel Christmas-busy here at the North Pole. In fact, as I look around me there are work projects going on everywhere. Folks are busy getting things cleaned up, organized and prepared for the season ahead.
We received a big load of firewood today at the North Pole. Santa had it sent in by sleigh from Canada. It has been snowing up here already for a few weeks now. So everything is white. We haven't yet put up our Christmas lights — Santa won't let us do that until after Halloween — but some elves are starting to work on their displays this year for their houses. They promise lots of surprises.
We'll have more news to report shortly. For now, check out Santa's media interview.
— Elf Ernest
https://santaupdate.com/wp-content/uploads/2023/01/newlogo23f.png
0
0
Elf Ernest
https://santaupdate.com/wp-content/uploads/2023/01/newlogo23f.png
Elf Ernest
2013-10-04 04:39:00
2013-10-03 20:47:25
Santa Talks to the Media