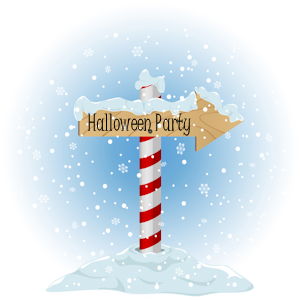 Halloween is a popular time here at the North Pole. Santa and his family and all the elves take a break from their busy work of Christmas to celebrate Halloween with a party that features music, dancing, games and, of course, costumes.
A few years back Santa introduced the idea of "themes" for our costumes. We like to hold a "best costume" contest every year for our Halloween party and Santa thought the idea of a theme would make it more challenging for elves. You see, as elves we tend to get very creative in our costuming. We are also very competitive. So we all try very hard to win. The result is always a lot of fun.
Last year the theme was Noah's ark. But this year Santa told us he wouldn't tell us the theme until TODAY. That means we only have a couple of days to get our costumes together. A little while ago he told us the theme this year is "Green".
When Santa said that a groan went up from the crowd. That's a very hard theme. I imagine we will have a lot of elves who dress up as the Jolly Green Giant this year, which is pretty funny for an elf, if you think about it.
We always hold the costume contest first during our Halloween party. That's because everyone knows their costume will pretty much be destroyed by the end of the evening. You see, the biggest tradition at the North Pole Halloween party every year is a massive food fight. Even Santa and Mrs. Claus get in on tossing cupcakes and using squirt guns full of kool-aid and jello. It is messy and it is a lot of fun.
Mrs. Claus added me to the clean-up committee this year, a task I haven't had for a while. Most elves on the clean-up committee tell everyone not to make a mess. It is a tradition that one member of the committee makes an announcement right after the dancing is over that elves need to clean up after themselves and pitch in with the cleanup. Usually it is during this speech that someone throws the first pie, which starts the food fight.
I hope I'm not selected to make the speech.
What are you wearing for Halloween? Tell us about it!

https://santaupdate.com/wp-content/uploads/2023/01/newlogo23f.png
0
0
Elf Ernest
https://santaupdate.com/wp-content/uploads/2023/01/newlogo23f.png
Elf Ernest
2013-10-28 01:49:30
2013-10-19 07:58:10
North Pole Readies for Massive Halloween Party