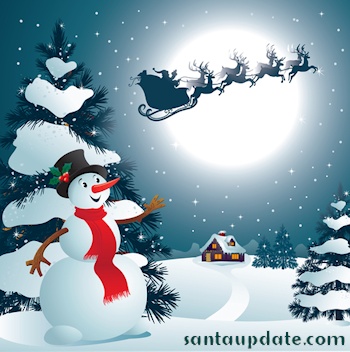 Tracking Santa is a very old tradition. Kids and families have been doing it for as long as Santa has been flying.
Santa wants you to understand the many ways to track him on Christmas Eve. There are many new tools available online to help you track Santa but Santa still prefers the old fashion way — get a map of the world or a globe and track Santa with a marker or a piece of yarn while you read the updates from the North Pole.
These are the most fun and it will teach you geography and all about the world. Did you know I recently received a letter from a young woman in college who said her happy habit of tracking Santa on a map with Santa Update helped her in college? True story!
But Santa also realizes that Christmas Eve is a busy day for many people and maybe you are not at your own home or you are too busy doing other things to be able to track Santa with a map. So he is providing some news ways to keep track as Santa circles the world.
You can listen to the Santa Updates via Kringle Radio — this can be accessed via the Internet or on your phone by way of Tunein.com. Great Christmas music plays in between the news broadcasts that come from right here at the North Pole. (Santa even tunes in from the sleigh!)
Well, you might be in Church or at a Christmas dinner on Christmas Eve and you won't be able to listen right then to the radio. No problem! Just sign up at Jingle Kringle.com to receive texts of Santa's position on your cell phone.
Or, you can just see it on a map we provide online at TrackingSanta.net.
No matter where you are or how you do it, you can be up to date with Santa on Christmas Eve!

https://santaupdate.com/wp-content/uploads/2023/01/newlogo23f.png
0
0
Elf Ernest
https://santaupdate.com/wp-content/uploads/2023/01/newlogo23f.png
Elf Ernest
2013-11-25 01:00:02
2013-11-09 07:02:10
How to Track Santa on Christmas Eve