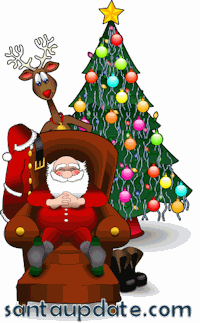 Merry Greetings!
According the Institute of Merriment Studies, the first week of December is traditionally the busiest week for selecting and decorating Christmas trees. Our tradition during this week is to accept the advice of a resident elf at the North Pole who has studied Christmasology and can give tips for enjoying your tree.
Upon request, the jolly old elf himself, Santa Claus, has asked for the assignment this year. Here are Santa's thoughts on taking care of your tree:
1. Give your tree a name. In fact, if you look at the tree long enough and give it plenty of water and love and attention, you will receive the inspiration to know what the actual name of the tree is. Avoid names such as Woody or Twiggy. Trees love festive names.
2. Trees love music and laughter. Be sure to sing around your tree as much as you can.
3. Use homemade or personal decorations. This makes the tree feel more of a part of the family.
4. Artificial trees are Christmas trees too. Give them every bit as much love and attention as you would any other kind of tree.
5. Trees love to be smelled.
6. Trees love and need water. Keep them away from sources of heat or flame.
Santa also mentions that he talks to the trees in each home he visits on Christmas Eve.
Question of the Day: Do elves have normal jobs like policemen, nurses or grocers?

https://santaupdate.com/wp-content/uploads/2023/01/newlogo23f.png
0
0
Elf Ernest
https://santaupdate.com/wp-content/uploads/2023/01/newlogo23f.png
Elf Ernest
2014-11-30 03:00:40
2014-11-26 10:16:16
The Importance of Your Christmas Tree