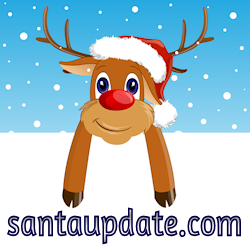 You think that YOU have a lot of snow? You should see it at the North Pole right now!
Of course, we're used to a lot of snow. But today we're celebrating 10 months until Christmas Eve by taking a snow day. Can you believe it? Only ten months until Santa flies again!
A snow day at the North Pole does not happen very often. In fact, it only happens on average maybe once every five or six years. We are used to getting a lot of snow at the North Pole. So honestly the only time work stops here because of snow is when Santa just wants to go out and play in the stuff.
Early this morning the emergency whistle here at the North Pole sounded. It is a special whistle that means "all stop", meaning stop working and listen for an important announcement. Santa blew that whistle and said work was over for the day and that all would assemble outside soon for "snow duty". And that means just one thing: a massive snowball fight.
Mrs. Claus, believe it or not, loves snowball fights. It means the elves can make as big a mess as they want because it is all outside and there is only snow.
So it is a fun day for us.
We know there will be serious business to get back to tomorrow. But for today, we're messing around in the snow that has piled high here at the North Pole since Christmas. We have at least two more months of winter here so we expect a lot more snow before we start to see the signs of spring.
Work on Operation Merry Christmas 2015 continues at a brisk pace. We are told things are going well. For those asking, no — the reindeer have not left the North Pole for the season. That comes maybe a month from now. They are all still here. And no, Santa does not yet have a new sleigh to test fly. But thanks for asking.
— Elf Ernest
https://santaupdate.com/wp-content/uploads/2023/01/newlogo23f.png
0
0
Elf Ernest
https://santaupdate.com/wp-content/uploads/2023/01/newlogo23f.png
Elf Ernest
2015-02-24 04:49:17
2015-02-24 04:49:17
10 Months Until Christmas Eve