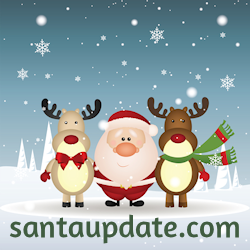 A heavy snowstorm has moved over the North Pole and it was a group of really slow moving elves who tramped their snowy feet into Santa's office this morning. As is tradition Santa convened a meeting of Santa's Council on the day after Christmas.
This select group of senior elves had one order of business for this traditional meeting: to set the time for Santa's next launch of Operation Merry Christmas.
It is step #1 of a billion things that need to be done between now and when Santa launches again.
Once that time was decided upon — a process that took all of 30 seconds — Santa dismissed the meeting and declare today — indeed, all of this week — a holiday for all the elves at the North Pole. He did it as a thank you for their quality service this year.
Soon after this announcement was made a group of volunteer elves walked the grounds of the North Pole resetting the countdown clocks posted everywhere, including on all our websites.
How quickly it changes. Two days ago that countdown clock seemed to be moving at lightning speed. This morning — with those big numbers up there — it appears to be crawling.
It is hard to think of how far away it feels until Christmas is everywhere again. Here at the North Pole we live it every day and we love it.
But great things always begin small. And we think today's small beginning to Operation Merry Christmas 2017 is a great start.
Merry Christmas!
https://santaupdate.com/wp-content/uploads/2023/01/newlogo23f.png
0
0
Elf Ernest
https://santaupdate.com/wp-content/uploads/2023/01/newlogo23f.png
Elf Ernest
2016-12-26 07:52:54
2016-12-26 07:52:54
Launch Clock Reset for New Year