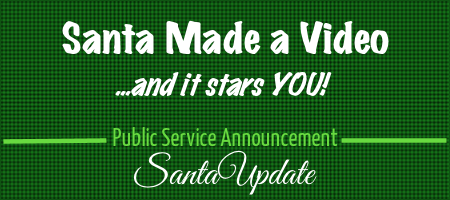 We're pleased to present the first video ever made by the North Pole here on Santa Update — and maybe it's YOUR voice you hear on it. This video features actual messages to Santa over his voice mail. Take a look:
Santa just loves all the voice mails he is receiving. He just can't get enough of them.
Now, it's not often we ask this kind of thing but at Santa's request I'm asking you to share the video you see above. Share it with your friends, your family, your parents, your siblings, your teacher…everyone!
That's because Santa wants to hear from as many as possible. It fills him full of good cheer to hear your lovely voices!
As as you can tell from the video Santa hears from older people, too.
And that's great! Santa really appreciates hearing from everyone.
You can tell Santa anything you want. You can ask questions, sing songs, tell him what's happening to you at school or at work. Santa will listen. He's a great listener.
He'll listen to your wishlist too. Of course, you can always send it to him because that's a lot of fun too.
Santa is constantly listening to his messages. He listens when he is on the sleigh. And he listens where he works. It is just something he never gets tired of.
So if you have something you want to talk to Santa about don't wait to see him — just call him!
p.s. — The number, just in case you forgot it, is 866-847-2682
https://santaupdate.com/wp-content/uploads/2017/11/110217.png
200
450
Elf Ernest
https://santaupdate.com/wp-content/uploads/2023/01/newlogo23f.png
Elf Ernest
2017-11-02 00:01:00
2017-11-01 20:15:38
Messages to Santa