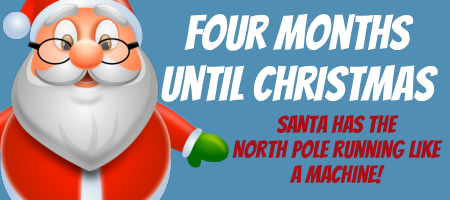 Happy Hot August Greetings! There are only four months now to Christmas. How did that happen so quickly? The year has just flown by.
In fact, I was catching up some email from readers the other day and 7-year-old Larissa sent me a note that really got me thinking. She said, "Ernest, the year is almost over and you have hardly said a word about Santa!"
You know what? She's right. I look back on all the news of the past several months and I haven't mentioned Santa much at all. How silly is that?
There is something else I've noticed. Santa has so far been here every day of the year. Day in and day out, I see Santa. I sit in meetings with him, I see him working with elves in the new workshop, I see him testing stuff and talking to all kinds of elves.
But so far this year I have not heard that Santa has taken a break. I looked back through my calendar and then I called his executive secretary and he confirmed it – Santa has stayed at the North Pole all year.
That's really unusual. Normally he and Mrs. Claus head south for a week or two to at least see family. But not this year. Santa has been here all year, and Mrs. Claus too.
And I gotta tell you something.
Never have I seen things so ready for Christmas like I do right now. We're running like a well oiled machine. The new workshop has changed everything. They are ahead of their production goals by more than 85 percent and, oddly enough, elves are only working about 8 hours a day. No overtime!
There is a bright spirit of optimism here. Everyone is anxious for Christmas, but in a good way. They just can't wait for it all to begin.
A some things are starting a little early. Like the reindeer.
I'll tell you more about this next month. But as we have shared with you before the reindeer DO leave the North Pole every summer and they left here back in mid-May, right on schedule.
But they must be coming back soon. I keep seeing more and more elves working at Santa's Stables. Lots of new food has been brought in and the reindeer barn has a new coat of paint.
The reindeer ranch is freshly groomed, all ready for the first snow (which could hit any day now, the weather elves tell me).
Normally we don't see the reindeer back until October or November.
I don't know. Something about this year is feeling different. It feels better. It feels happier. It feels more…merry.
Oh, I know we have a long way to go and that anything can happen. We're ready for it, whatever it is. But it has just been a very smooth, productive and happy year so far.
Soon we will be talking some big plans for the season with the radio guys and the web teams. Santa told me he wants to see some changes on the websites.
Maybe next month I can tell you about those. Until then enjoy the end of whatever season you're in!
https://santaupdate.com/wp-content/uploads/2018/08/082418.png
200
450
Elf Ernest
https://santaupdate.com/wp-content/uploads/2023/01/newlogo23f.png
Elf Ernest
2018-08-24 00:00:32
2018-08-23 20:02:22
Four Months Until Christmas