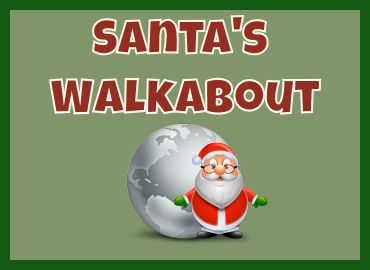 Greetings!
It is unusual to have news so early in the year but here I am — bringing you news from the North Pole.
After taking a little break after Christmas Santa set out to get things organized for Christmas 2020. He reviewed the last year with each department head, talking the the sleigh guys about the sleigh, the reindeer elves about the reindeer and the Workshop elves about the toys. He set new goals for the new year, set production targets and placed important dates on the calendar. All the usual stuff.
Then he surprised everybody.
Santa called a meeting and showed up wearing snow shoes, a big black parka, and a heavy hat and gloves. He also had cut his hair short and shaved off his beard.
That could only mean one thing: Santa is heading out on a walkabout.
It has been three years since Santa has done this. Normally he does this about every five years. So everyone was taken by surprise.
A Santa walkabout is when Santa ventures out into the world on foot. He travels in disguise so that nobody will recognize him (hence taking off his beard). He goes to places where he feels he needs to learn about the people.
Santa told us that when he traveled the world at Christmas he saw some things that concern him. He feels a need to get out and talk to folks. Of course, we don't know exactly where he is going or when he will be back. Last time he did this Santa didn't return until very late in the year. That scared a lot of people. Especially Mrs. Claus who was not too happy with him.
He was gone for months. We didn't know for sure where he went or what he did.
This time will be different. This time he is taking an elf with him — Elf Winslow. You might recall Elf Winslow from our Tracking Santa radio show on Christmas Eve. He served as Elf Red Stocking's assistant during the radio broadcast.
It will be Winslow's job on Santa's walkabout to keep a record of Santa's travels and experiences over the next several months. He will be filing reports with me and we will post them on the website so you can keep track of Santa's adventures. Winslow will also have regular contact with the North Pole and Mrs. Claus.
Santa also said that this time he might fly back to the North Pole now and then for special events and meetings.
So Santa's walkabout will be very different this time.
That meeting was yesterday. Early this morning Santa and Winslow left with backpacks on their back.
Is Santa headed to your neighborhood? Well, that I couldn't tell you. Santa isn't revealing his travel plans, not even to Winslow.
But we will know this time where Santa has been. And that should be a great way to help count down the days until Christmas.