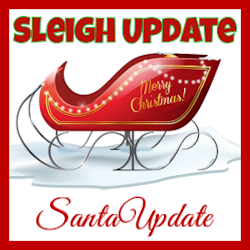 Santa is in South America. The test flight team for Santa's new sleigh is in South America. So it is no surprise these two parties got together, right?
Reports are coming from North Pole Flight Command that Santa has met with the test pilots working on the new sleigh design and that Santa did, in fact, test the new sleigh himself for the first time this year. This is a very rare thing.
You see, Santa normally does not have time for this kind of thing.
But 2020 has been a very unusual year. Santa has had a very active part in designing the new sleigh and, for a period of time, he even helped to construct one of the first prototypes of the new design.
Santa told me this morning that he enjoyed testing the new sleigh. "If I were not Santa Claus there is a good chance I could have been one of these test pilots," Santa said. "These elves have a very important job. They do very good work. I can tell you the new sleigh is very fast but that we still have some design changes to make to make it even better. But we're getting there."
Santa declined to talk about the new sleigh, what features it has or what changes he wants made to it. The test flights in South America this week were supposed to be "top secret", according to a report from North Pole Flight Command.
We don't know if Santa's visit to participate in the test flights was the secret part of it or if something else is going on.
All we do know right now is that Santa and Mrs. Claus will now head somewhere else — probably to Norway — to visit more of the reindeer ranches and that the test flights of Santa's sleigh will continue in South America. You can see the map that shows the current location of the test flights by clicking here.
Things are moving along quickly this year!

https://santaupdate.com/wp-content/uploads/2020/10/101520.jpg
320
845
Elf Ernest
https://santaupdate.com/wp-content/uploads/2023/01/newlogo23f.png
Elf Ernest
2020-10-15 06:34:21
2020-10-15 06:34:21
Santa Participates in Test Flights