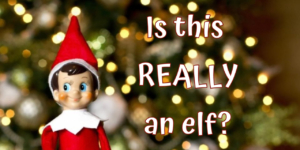 Brace yourself. I'm about to bust some hard Santa truth on you about Elf on the Shelf. At the North Pole we work hard to share the truth of Santa Claus. Sometimes that truth is not pretty.
For example, kids will write in and ask Santa for stuff they should never have. It's my job sometimes to let them down.
I once told a kid that Santa would not be bringing him a Bengal tiger. The kid got mad and refused to believe in Santa any more.
This is what happens when you tell someone something they don't want to hear. It is almost as if they have to do something to "get back".
It happens a lot in the Santa truth business. We have to sometimes share unpleasant things. We have to just tell it like it is and let the chips fall where they may.
A few months ago Santa came to me to discuss the Elf on the Shelf.
For years Santa and the rest of us at the North Pole have been silent on this topic. But in recent years some not-so-great things have happened with the whole Elf on the Shelf thing and those things have reflected poorly on Santa, the North Pole and the whole Operation Merry Christmas effort.
It is a worry because as elves we follow two very strict things: the Elf Code and the Elf Oath.
The Elf Code talks about our behaviors. Santa is not much into control, despite what you hear about him having lists and knowing when you're awake and asleep (that's another bit of Santa truth we need to discuss sometime).
The reason Santa does not need to worry about control is because of the Elf Code. As an elf, we know how to act because of the code.
Some of you are new elves. Perhaps you have gone to ElfHQ.com and SantaTrackers.net and started your elf careers. If you have then you know all about the Elf Code.
But you will also know about the Elf Oath.
What's the difference between the Elf Code and the Elf Oath? The Oath is your promise to live by The Code. It is your word. It seals your commitment to Santa and to Christmas.
And therein lies the problem with Elf on the Shelf: they do not know the code and they have not taken the oath.
If they had, some of them would not act as they do.
Last week I had to share all this truth about Elf on the Shelf at the Tracker Elf Conference. Why? Because we were getting a lot of questions.
Tracker Elves at the conference and millions more writing in to the North Pole wanted to know what role the Elf on the Shelf plays in tracking Santa.
The truth is that they have no part in tracking Santa – at least not officially.
They don't belong to the Tracker Department at the North Pole because they have never been formally hired by the North Pole. No code, no oath.
If they had been hired they would have learned the code and taken the oath. And they would never act inappropriately as some of them do.
You see, the Elf on the Shelf program is something that we at the North Pole cannot answer for.
That's a problem for us because the job of this site, of NorthPoleFlightCommand.com, of North Pole Radio News, of Kringle Radio, of the North Pole Gazette, and of every other official North Pole publication is ANSWERS.
We do not have the answers you need about Elf on the Shelf because they are not officially at the North Pole or part of it. We don't really know who is in charge of them.
Some of them not only do NOT live at the North Pole we suspect some of them have never actually been here.
We believe that some of these "elves" are actually connected to people who know you. Almost all of them work as "independent contractors", meaning they work for themselves. Some even – gasp!!! – do their "elf work" for money.
Do they know Santa? Maybe some of them do.
Do they live at the North Pole? Maybe some of them do.
Are they actually elves? Maybe some of them are.
The point Santa would like you to understand is that he just does not know. The North Pole does not know.
Does this mean your personal elf – one whose name you know – is not legit? No, we're not saying that. What we're saying is that we just don't know.
What we do know is what an elf is and how an elf is supposed to act.
When we talk to someone whose "elf" put toothpaste on their spaghetti we know that person is not a real elf. When we hear of "elves" doing naughty things we know they are not real elves. When we are told that "elves" use bad words, speak poorly of other people or act in bratty ways we know they don't really work for Santa.
We encourage you to read the Code and to know the Oath.
You may never want to become an elf yourself and that's okay. But if you know the Code and the Oath you will know when someone is a real elf.
The idea of having your own elf is a pretty cool one. Santa actually likes the idea if the Elf on the Shelf were to act like a real elf. But he cannot guarantee that they will. And that's the truth.
Truth does not need to be a problem. In fact, truth should never be a problem. Ever.
Should you continue to believe in your elf? Should you allow visits by your elf to your home? Should you believe what your elf says or does?
Well, guess what? You get to decide that. We suggest you talk to your family about it.
Santa does not want to control you or your elf. He just wants you to have a Merry Christmas.
And that is the truth.
https://santaupdate.com/wp-content/uploads/2020/12/elfontheshelf.jpg
320
845
Elf Ed Zachary
https://santaupdate.com/wp-content/uploads/2023/01/newlogo23f.png
Elf Ed Zachary
2020-12-19 10:01:14
2020-12-19 10:01:14
The Truth about Elf on the Shelf