24 weeks now until Christmas! I'm sorry I'm a teensy bit late with the countdown this week. I've been too busy having fun.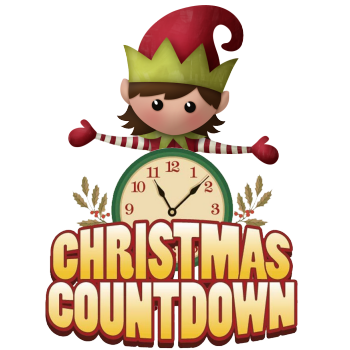 We're celebrating Christmas in July here at the North Pole. It's like an endless summer picnic this week. All week long it's been a party of some sort. Hardly anyone, including me, is doing any work.
Well, I shouldn't say that.
I know those test pilots and reindeer are out there testing Santa's sleigh and they haven't stopped working. And the workshop is hard at it. And some others.
Okay, so maybe it's just lazy ole me. But really – I was assigned this duty this week and it has been a blast.
I helped run the dunking booth earlier this week. I was wet all day. That's because of the water balloons, though. I wasn't being dunked. My job was to keep the elves in line who wanted to go after who was in the booth. That line was long most of the time because they had some of the big shot elves there this week who volunteered to get dunked.
Elf Bernard was there. Elf Grumbles with was there. But the best one, if you ask me, was Elf Wally.
You know Elf Wally – head of Wrapping. Well he just egged every elf on who wanted to dunk him.
You see, to dunk someone you have to throw a softball at a target. If you hit the target, the person sitting on the little bench in the booth gets the bench pulled out from under him and he goes in the water.
The event is a fund raiser for Santa's Sleigh. You pay a dollar to throw three balls. Many elves don't throw all that well so some of them are getting back in line to buy more. It's a big success for Santa's Sleigh.
Anyway. Elf Wally just keeps shouting little insults with every ball that is thrown. That makes the elves a little anxious, which makes them throw worse. Every time they miss the target they get a little mad, which makes them throw the next ball worse. Wally set a record by going 27 throws without ever hitting the water.
Of course, the better he got at this little game the more people lined up to throw at Elf Wally.
Santa says Elf Wally will set records for fund raising for Santa's Sleigh this year. Santa's Sleigh is a charity – a little effort that people around the world, including elves, contribute to so that families in need can have a better Christmas. It's a very popular thing here at the North Pole.
Anyways. I've been working the dunking booth, and the spoon relay, the golf tournament and also the kissing booth. I thought I wasn't going to like the kissing booth but it ended being WAY better than I thought it would be. You see, after they buy their ticket they have to put on a blindfold before they are "kissed". Once the blindfold goes on a big watermelon with these fake rubber lips comes out and that's what they kiss.
You can always tell those who peek under their blindfold. They get mad for some reason.
Anyways. The fun and games of Christmas in July will go on for at least another week. There are more events than I have time to tell you about.
For example, tonight around the campfire, there is a little concert of new Christmas songs that will be performed for the first time. It's a contest. And evidently, when they have done this in the past, it is a very popular contest. I'm really looking forward to it. Oh, and the s'mores, too.
Big news coming out this week. So stay tuned!

https://santaupdate.com/wp-content/uploads/2021/07/070821.jpg
321
845
Elf Trixie
https://santaupdate.com/wp-content/uploads/2023/01/newlogo23f.png
Elf Trixie
2021-07-09 10:22:48
2021-07-09 10:22:48
24 Weeks Until Christmas