Hi everyone! Happy Thursday and guess what? There are only 3 weeks left until Christmas.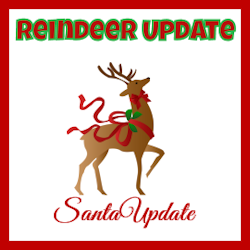 I'm a nervous reindeer mama these days. My reindeer, Trixie, is playing in the reindeer games and she's hanging in there. As a two year old nobody expects her to win anything but she has also had big year and has been named on several reports as one of the new reindeer to watch.
My Trixie is very fast. That is her best skill. She has grown up a lot, as I've told you, but when I look at her out there against some of the other reindeer she seems so small. I don't always like watching her compete against some of these veteran reindeer like Donner and Blitzen. Those guys are giants and I think there is no way Trixie can keep up with them.
But you know what? She is doing pretty good. Trixie placed in the top 25 in the preliminaries with an 8-mile run. That's a long way, all on the ground. And she didn't even seem winded that the end of the race.
That got her into the semis and now she has to play in all the events against the favored reindeer. I'm so nervous for her.
The first event was a running take off.
In the event a reindeer has to get airborne after a brief sprint down a measured track.
They are not judged on their running. They are judged on their launch speed, their trajectory, and their "hang time", which is a term they use to describe how long it takes them to go from running to flying.
Trixie runs well and flies well. Jumping is not her strength. You could really see the difference in her lack of experience. She was in a field of ten and she placed 8th. Not great. But she had to compete against Donner, Blitzen, Cupid, Vixen, and Dancer in that field – all big name reindeer.
Today's sprints are the races I really want to see and the ones that I think might be a chance for Trixie to surprise. Any time running is involved she does really well.
She does not have to win anything at these Reindeer Games. As a test flight reindeer she has already earned a Christmas Eve assignment helping Santa somewhere. That makes her really happy.
She is hoping to get an assignment to the Rush Delivery Team. That is a team of reindeer who use their speed to move things for Santa on demand to certain parts of the world on Christmas Eve. You not only have to be really, really fast to get that assignment but you have to be approved by Santa personally to make that team. It's hard to get those assignments.
Trixie has worked hard and Santa the last time he talked to Trixie told her she was "going to be a star" someday. So Trixie is very hopeful.
For me, I just want her to be safe and happy. I worry she might get hurt but she is being taken care of by the best reindeer handlers in the world. I know she is doing good work.
Toodles.

https://santaupdate.com/wp-content/uploads/2021/12/120221.jpg
321
845
Elf Trixie
https://santaupdate.com/wp-content/uploads/2023/01/newlogo23f.png
Elf Trixie
2021-12-02 08:00:30
2021-12-01 23:46:59
3 Weeks Until Christmas