There are now just 7 months until Christmas and there are big signs the season is, believe it or not, drawing closer.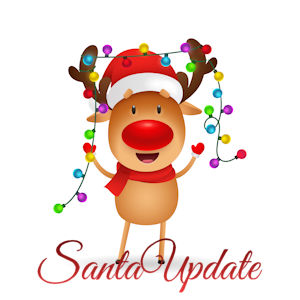 No there are no decorations yet hung and while there is Christmas music every day on Kringle Radio there is not a Christmas tree to be seen anywhere.
But from the Operation Merry Christmas side of things you can tell something big is coming. And that big thing is Christmas.
Over in the Wrapping Department, for example, Elf Harriet says that the giant machine rolls of wrapping paper are starting to arrive. Of course, those big rolls which feed the wrapping machine are going to sit in storage for a while because Santa's workshop has not yet sent over anything to be wrapped.
Santa's workshop has to keep a very complicated schedule, you see. They cannot make too many things too early because they know that a kid might request one kind of toy in May and then want something entirely different in November.
So they watch world trends, see what kids are talking about and they try to gauge demand before they actually make things.
It is all very complicated.
But you can tell Santa's workshop is ramping up because they too are getting loads and loads of materials. Things like wood, glues, plastics and materials of all kinds are coming in more and more every day.
They are making things – small things – that they make every year. Balls, doll clothes, sports equipment, etc – these are all things in demand every year. In fact, the bulk of their work all year has focused on classic toys that they know will be wanted every Christmas.
But it all waits, even if it is complete. The workshop does not send anything to the Wrapping Department until they know who a toy is for.
Which brings us to the North Pole Post Office, also known as the busiest department at the North Pole. They are key to the work done in Santa's workshop and in the Wrapping Department. Every day of the year Santa gets mail and most of that mail is in the form of wishlists.
How does your wishlist turn into a work order for Santa's workshop? Well, maybe that's a topic that we take up on another update. But for now, let's just say it's complicated.
The months of summer are huge at the North Pole. We hope you stick around to catch all the news as it break.
Talk to you next month.

https://santaupdate.com/wp-content/uploads/2023/05/052423.png
320
845
Elf Ernest
https://santaupdate.com/wp-content/uploads/2023/01/newlogo23f.png
Elf Ernest
2023-05-24 00:01:45
2023-05-23 21:44:49
7 Months Until Christmas