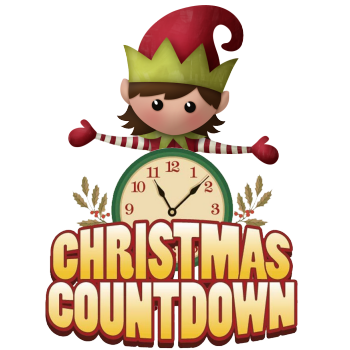 44 Weeks to Christmas, gang! Before you know it our little weekly countdown will be in the 30s. Where does the time go? 
I wanna talk about the North Pole Post Office a little bit with ya. I'm starting to get mail and, well, that's awesome. I love getting your emails and letters. 
So far, since last Christmas, I've received about 4,000 emails. Well, as of this writing, 4,234 total messages have been sent to me. 
Yes, the North Pole Post Office counts them. 
They do that for many reasons and I really appreciate it. I think it is thrilling to get mail like this. I have never received so much mail in my life. 
Of course, when it comes to mail, I'm not like some of the other people here at the North Pole. 
Santa Claus, of course, gets mail by the billions. Yes, I said billions. Some of you send him letters and wishlists and stuff several times a year. We expect that. The North Pole Post Office expects that. And Santa does his best to read all of it. 
Rudolph gets millions of letters, too. I think that's interesting because most reindeer do not know how to read. Most, I say. Rudolph CAN read. Although he moves his lips a lot. He learned to read many years ago because he's very smart. He wanted to understand for himself what people write. Now, that being said, I would tell you that Rudolph has several elves who help him with his mail. 
Technically, those elves are employees of the North Pole Post Office. But that's what they do full time — they help process the mail for Rudolph. Pretty cool, eh?
Other people here at the North Pole get a lot of mail. Mrs. Claus gets millions of letters. So does Elf Bernard. Of course, Elf Crash Murphy does. 
So little old me with my 4000+ emails is really no big deal — at least to the North Pole Post Office and the other elves who get a lot of mail. 
But it is a very big deal to me. 
I do not have any elves helping me though. I don't get enough mail to justify elf help. 
But they did give me my own office the other day. I'm just now starting to decorate it. And I'm trying to figure out how to organize all the mail that comes in. 
I talked to Elf Ernest (who also gets a lot of mail). He advised me to group my letters by subject. He said to use my weekly posts here on Santa Update to try to answer the most common stuff that you guys send to me in the mail. 
So I spent most of last week and this week reading all those letters and making lists. 
So far, here are the kinds of questions I'm getting in my mail:
What's it like being a girl elf at the North Pole?

Do you get to take Trixie the Reindeer out on walks?

How do I get a job like yours as an elf at the North Pole?

How often do you talk to Santa?

Do snowmen talk at the North Pole?

What do girl elves wear?

Do you really like pink?

How do you do your hair?

Is there magic in being an elf?

What do Mrs. Claus' cookies taste like?
As you can see, I'm getting lots of different kinds of questions. After sorting them all out I can see now why Elf Ernest lets me write these posts each week as we countdown to Christmas. This all gives me a lot to talk about. 
It also gives me some ideas. 
Elf Ernest told me he gave me this job because he wants a new elf like me to answer questions. He said he is an "old elf" (he does not look old to me). Ernest said he is afraid his answers might sound like they come from an "old elf". He said he thinks our site visitors would like the posts made from both a new elf and a girl elf. 
I appreciate that. He also said he wants my ideas. One of my ideas is to get maybe the opinions of other young elves who do NOT live at the North Pole. What do you think of that?
Send me a message via this page: https://santaupdate.com/north-pole-post-office/ask-an-elf/
Tell me what you think of that idea.  Maybe I can talk Elf Ernest into letting some of you share your thoughts in official posts on Santa Update.
Thanks guys! Have a Merry Week!

https://santaupdate.com/wp-content/uploads/2021/02/021821.jpg
321
845
Elf Trixie
https://santaupdate.com/wp-content/uploads/2023/01/newlogo23f.png
Elf Trixie
2021-02-18 00:01:23
2021-02-17 17:38:06
44 Weeks Until Christmas