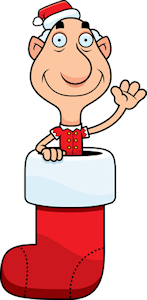 When Crash Murphy was a teenager he got himself into some trouble. He wasn't a bad kid — just a kid who had a bit of a hard time. He lost both of his parents in a tragic accident when he was young and life was pretty hard. Then he met Santa.
Santa offered him a job after he graduated from school and Crash began his elf career working in the Wrapping Department at the North Pole.
Several years ago as they were beginning to develop North Pole Radio News they were looking for an elf to work as a special news reporter that would follow Santa on his Christmas Eve flight. A lot of elves applied for the job but only one — Crash Murphy — could withstand the difficult conditions of flying in a sleigh.
Crash has quickly become one of the most popular elves associated with the Christmas Eve radio broadcast.
His candid descriptions, fun-loving storytelling skills, patient explanations and banter with broadcast partner Elf Frank Myrrh causes Crash to receive a steady stream of emails about questions of elf life and how things work at the North Pole. Here is a sample of one of Crash's famous reports from behind Santa's sleigh:
In addition to his role as Santa's Eye-in-the-Sky Reporter Crash also assists as a local North Pole reporter during the Christmas season and due to his immense popularity he fields questions from fans around the world and answer them in the Ask Crash feature over at Kringle Radio.
Elf Crash recently kicked off the premiere episode of the North Pole Podcast and will occasionally host that feature.
Crash lives at the North Pole with his little dog Hercules. He loves his job and says he never wants to do any else.