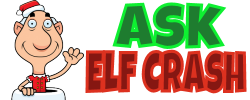 Elf Crash Murphy is the North Pole's "Eye-in-the-Sky" news reporter.
He follows Santa on a chaser sleigh and reports on his location and condition for the duration of Santa's flight. Crash has done this job for many years now and he remains one of the most popular and trusted elves at the North Pole.
His news reports are full of interesting information. He is also very honest and descriptive in his reports and frequently he is very funny. He receives more email than any other elf here at the North Pole.
Below are archived news reports from Crash answering some of the many questions he receives from children all over the world:
Archives from past questions Crash has received:
12/20/15 — Are there any bad elves?
12/19/17 — Why doesn't Santa get presents?
12/18/15 — How does Santa's sleigh work in places with no snow?
12/17-15 — Does Santa have enough elves?
12/16/15 — Does SantaUpdate.com work with NORARD?
12/15/15 — Does Santa really like milk and cookies?
12/15/15 — What is Mrs. Claus' first name?
12/14/15 — How does Santa get around the world in one night?
12/13/15 — Why does Santa's handwriting look just like my Mom's?
12/12/15 — Why doesn't Santa bring something for my father?
12/9/15 — Does Santa really give coal to children that are naughty?
12/8/15 — Has Santa ever gotten lost on Christmas eve?
12/7/15 — What do elves think of the movie Elf?
12/6/15 — Why won't Elf Agent X tell us his real name?
12/5/15 — Do elves wear uniforms?
12/4/15 — Does Santa have a dog?
12/3/15 — Can Santa come to my house first?
12/2/15 — Do you know my Elf on the Shelf?
12/1/15 — Is my mother too old to be an elf?
11/30/15 — Does Santa like hot chocolate better than milk?
11/28/15 — How cool is it to be Santa's eye-in-the-sky reporter?
11/25/15 — Why is Thanksgiving Santa's favorite holiday?
11/24/15 — Who will be on the radio on Christmas eve?
11/23/15 — Do elves and Santa have to go to school?
11/21/15 — Does Santa listen to Christmas music when he flies the sleigh?
11/20/15 — Is Santa still fat?
11/19/15 — Has Santa planned his flight path?
11/18/15 — Will Santa use the military to find the missing reindeer?