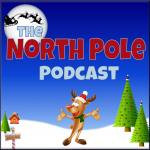 Listed below are the latest episodes of the North Pole Podcast — a special production by elves about Santa, the North Pole, elf life and Christmas.
You will learn insightful information that you can get nowhere else and in no other way. Just elves talking like elves do!
The North Pole Podcast features elves from Kringle Radio News at the North Pole who interview expert elves on a variety of topics. Everything from Santa's workshop to his reindeer to how elves eat, dress, work and live are discussed.
Better than a radio show, you can download them for listening any time you want!