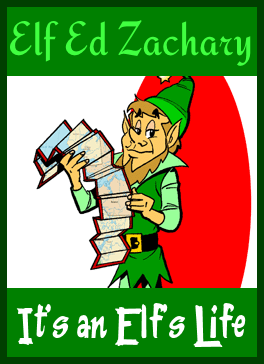 For years and years, Elf Ed Zachary has been a Santa defender.
Whenever someone has spoken up to say that Santa was not real or questioned the effort of Operation Merry Christmas Elf Ed has been there to set the record straight. He is an expert an answering the tough questions about Santa and the North Pole.
In fact, you can read many of his posted articles over at his page at MyMerryChristmas.com.
Now Santa has given him an additional assignment: answering your questions about elf life.
All year long and sometimes coming in at a rate of thousands per day children everywhere write in with questions about becoming an elf, being an elf and what working at the North Pole is like. Elf Ed will — in his usual candid way — give it to you straight. Expect a column from him regularly:
I Yam What I Yam – Explaining how yams power Christmas
Planning for Christmas – Elves and calendars are an odd thing.
The Truth about Elf on the Shelf — There are ways to tell a real elf from a fake one. Santa hopes you know how to do it.
You're Never Too Old to Believe — Telling a kid he's too old to believe in Santa is a mean thing to do. You wouldn't believe how many old people believe in Santa.
Elves and Anxiety — Elves sometimes can really worry. That is not always a good thing. But it comes from the right things.
When Elves Get Mad — You don't want to get an elf mad at you. It won't be pretty.
Why Thanksgiving is as Big as Christmas at the North Pole — I'm NOT saying Santa is fat. Let's get that straight right up front.
When Things Go Wrong at the North Pole — Santa has a tough job. Not everything always works out. We get concerned for kids who get concerned over things that go wrong some times at the North Pole.
Things You Need to Know About Reindeer — Reindeer are very popular figures at the North Pole. Elf Ed Zachary explains a bit more about them and their work as elves.
Halloween for Elves at the North Pole — Elves love Halloween more than you will ever know. Elf Ed Zachary explains why.
What Mrs. Claus is Really Like — The North Pole has a lot of mysteries but one of the most curious is Mrs. Claus.
How Elves Poop and Other Secrets of North Pole Life — Yes, someone actually asked that question.
What Elves Eat — Elf Ed Zachary is perplexed at why this is even a question. But the truth is that elves love food. And they do more than just eat it.
Elves in Your House — There is a slight chance that an elf has maybe visited your house. But those guys have rules to follow if they go there.
A Face Made for Radio — Even as the radio gurus hire new talent for this year's Tracking Santa show on Kringle Radio Elf Ed Zachary explains why he'll never do it again.
Flying in Sleighs and Living at the North Pole — Elf Ed explains why flying in sleighs is not all it is cracked up to be — but that living at the North Pole…is.
The Not So Mysterious World of Elves — Millions of children write that they want to become an elf and work at the North Pole. Elf Ed questions why when he describes the not-so-glamorous side of elf work.