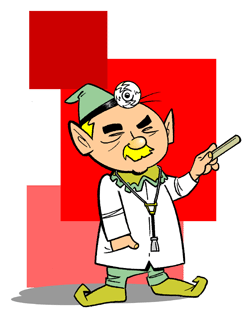 There is a little flu bug going around the North Pole. Nothing serious, just a few elves down with the sniffles.
Elf Lionel, head elf at the North Pole Medical Center, said they have come to expect a few days lost for elves who get sick. "Years ago we had that famous Christmas where so very many elves got that terrible virus, the Bah Humbug bug." Elf Lionel said. "It nearly cancelled Christmas!"
It was a terrible time for Santa and the North Pole. Santa had to fly in elves from all parts of the world to help in the workshop and most of those elves did not know how to make toys. It was a rough season. The Bah Humbug virus is a nasty flu that not only makes an elf feel terrible but also causes them to lose their Christmas spirit. It takes weeks to get over it.
So ever since that Christmas it has been Elf Lionel's job to make sure the elves stay healthy.
"Good sleep is probably the biggest part of it," Elf Lionel said. "The elves work hard and they love to work hard. But all that work can lead to sickness so we make sure they take breaks, eat well and get lots of good sleep. A good elf understands to drink a lot of water every day and, I know they love the sugar cookies, but they have to eat their vegetables, too, if they want to stay healthy."
Elf Lionel says the chances of the Bah Humbug virus ever returning to the North Pole are very slim indeed.
https://santaupdate.com/wp-content/uploads/2023/01/newlogo23f.png
0
0
Elf Ernest
https://santaupdate.com/wp-content/uploads/2023/01/newlogo23f.png
Elf Ernest
2013-11-19 01:37:29
2013-11-09 06:13:04
North Pole Medical Center Talks Health for the Elves