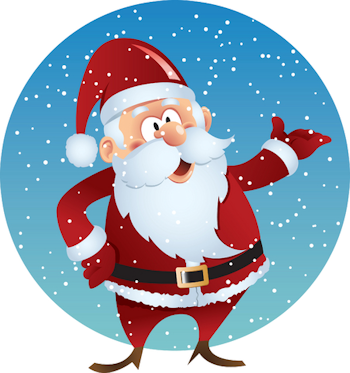 Santa tracking is better at Santa Update.com simply because it comes from the North Pole.
Real Santa tracking doesn't come from a military command center, a government entity, a search engine, a company or from outer space. It comes from where Santa comes from — the North Pole.
We have been tracking Santa from the North Pole since 1991. That's longer than anyone else online!
Allow us to give you a couple of other reasons why following Santa on SantaUpdate.com is better than anywhere else:
First of all, Santa has a big story to tell — every year it is a big story.
Following Santa on Christmas Eve on just a map is no way to know that story.
Besides, have you ever noticed that other Santa trackers only give you updates on Santa's position — and nothing else?
Have you ever noticed that what happens this year on other Santa trackers looks just like what happened last year?
Isn't that a little weird? There just has to be more to Santa's story than that!
The miracle of Santa Claus does not happen with Santa alone, you know.
That is why we encourage you to not only come to these pages but to also follow along with LIVE RADIO BROADCASTS from the North Pole Newsroom brought to you right here on Santa Update.
It happens every Christmas on Santa's radio station, Kringle Radio.
Millions of elves around the world work for Santa. The job of delivering to believers around the world for Christmas morning is a big one that takes all year to prepare for and millions of people around the world to pull off.
We tell that whole story — every year. We have since 1991.
SantaUpdate.com is better because we answer questions. We don't create them. We engage with parents and kids alike.
Santa has a life outside of Christmas and we tell that story, too.
Santa has things he thinks and we share those things. We believe Santa Claus is a hero and a role model.
Many who watch movies or see Santa on other websites do not see these finer sides of Santa. We don't exploit Santa's image to sell something. In fact, we don't sell anything. We just tell Santa's story.
We believe the Internet should be a safe place for kids and families. Our website follows all laws in regards to contact with children.
We believe that Santa should be something a kid discusses with his or her parents. We believe we can tell the Santa story of Operation Merry Christmas every year and help parents and kids do that together.
That is, after all, how it all began for us in 1991 when one new Dad, who had adopted a five year old little girl, struggled to get her to understand Santa Claus the first Christmas they were together. He did what any believer in Santa would do: he wrote a letter to the North Pole.
It was answered by an elf named Ernest who promised to do his best to answer the little girl's questions about Santa Claus by providing for her an "Update from the North Pole" every day from Thanksgiving to Christmas.
Those updates explained how Santa works.
The "Santa Updates" told the story of Santa and Mrs. Claus. They talked about reindeer and elves and the North Pole. They explained a lot of the simple things about Christmas that kids don't really think about: cookies, candy canes, the colors red and white and why we decorate Christmas trees.
The Santa Updates talked about how Santa celebrates Christmas and about how other kids in other places around the world celebrate Christmas. They talked about how Santa is known in other lands and all the old stories of where Santa came from.
By the time Christmas Eve came around the little girl was ready to hang a stocking and wait for Santa to come.
And since then millions of kids around the world have made Santa Update their tradition of tracking Santa Claus.
They send in emails by the millions — directly to Santa Claus. They write to elves, help Santa name his sleigh and become elves themselves by signing up to be a Tracker Elf for Santa.
It is all in great fun and it is all about having a Merry Christmas. It is all about doing it without being asked for information or to buy anything.
Santa is something — perhaps the only thing any more — that is completely free about Christmas.
Perhaps that is why we have so many adult believers visit us at Santa Update.com every season, too.