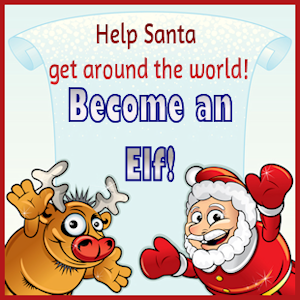 Good morning, Guam! Merry Christmas, Japan! Hello, Hong Kong! Greetings to Manilla, Beijing, Taipei! Hi, Singapore!
Santa has a special message for you this morning of Christmas Eve: we need elves from your part of the world!
Santa is needing reports of local conditions — the weather, hazards overhead, trouble in the skies, non-believers milling about, cookie shortages, hazards for the sleigh or reindeeer — whatever it is that you know Santa needs to know. We need Secret Spies in Asia!
Already Santa is receiving secret spy reports from all over the world. Kids in Canada especially are doing an exceptional job this year and we're hearing from enthusiastic elves stationed in Australia, Germany, England and all over the great state of Delaware in the USA.
But we need more information from Asia. Sign up your friends, your parents, your grandparents, your neighbors, your teachers, your siblings, your pets and any other lover of Santa and get them reporting what they know the to North Pole.
Spread the word by way of Twitter, Facebook, by email, by fax, by letter, by signs, posts, banners, flyers and even smoke signals and telepathy. Santa is only 8 hours away from launching and needs all the eyes he can get!

Santa Tracking is now being broadcast live from the North Pole at



https://santaupdate.com/wp-content/uploads/2023/01/newlogo23f.png
0
0
Elf Ernest
https://santaupdate.com/wp-content/uploads/2023/01/newlogo23f.png
Elf Ernest
2013-12-23 17:00:26
2013-11-26 21:49:18
Santa Needs Secret Spies!